Inspirational Art goes to the Scotland Office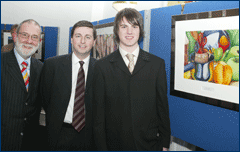 Eighteen young Scots had their artistic talent recognised in a special way recently by Douglas Alexander MP, Secretary of State for Scotland.
The eighteen artists produced some of last year's most expressive work submitted to us for National Courses in Art and Design, and now their work is going to be put proudly on show at the Scotland Office in Edinburgh and Dover House, London. This was kicked-off with an official reception, hosted by the Secretary of State in Edinburgh.
After helping their creators gain passes at Standard Grade, Intermediate and Higher, all eighteen pieces were included in our Inspirational Art Tour that toured the length and the breadth of the country last year in a specially-liveried coach, to much acclaim. Now, the artworks are to go on permanent display.
Tom Drake OBE, interim Chief Executive of SQA, said:
'We're always delighted to showcase the talent of the young people in Scotland's schools and colleges and to salute the support they receive from teachers and family alike. Having these paintings on display will give all eighteen of our artists some wonderful memories and a real sense of achievement. On behalf of our artists, I'd like to thank the Secretary of State for making this possible'.

Douglas Alexander said:

'The idea of a touring art gallery on a bus really captured my imagination when I heard about it last year. I was only too pleased to be able to offer to display some of the art in the Scotland Office and I can confirm that every piece I've seen today will be a worthy addition to the collections already hanging in Melville Crescent and Dover House. The Inspirational Art Tour is a great advert for the artistic potential of young people in Scotland. All the artists deserve great credit.'

If you would like a copy of the Inspirational Art Tour 2006 Catalogue, please drop an e-mail to Sue Jeffrey.