Equality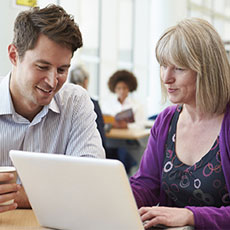 SQA is committed to equality of opportunity and to a culture that respects difference. We believe that, as an employer and public body, we can play a leading part in promoting equality and diversity more widely.
The public sector equality duty provides the framework for SQA to positively contribute to a more equal society through advancing equality and good relations in its day-to-day business.
We are committed to mainstreaming equality into our operations for the benefit of all our staff and customers. The general equality duty requires us to:
Advance equality of opportunity
Foster good relations and
Eliminate unlawful discrimination
These responsibilities set a clear expectation that public services must treat everyone with dignity and respect. SQA aims to ensure its services are accessible to all, whoever they are, wherever they are and whatever their needs.
SQA is a Disability Confident employer. The Disability Confident scheme aims to help us on our journey to successfully employing, supporting and retaining disabled people and those with health conditions. As a Disability Confident employer we have made a commitment to a number actions and will continually monitor our progress towards achieving them.
We are also committed to our membership as a Stonewall Scotland Diversity Champion and to promoting a workplace where all employees, including LGBT colleagues, in SQA can be themselves.
SQA Equality Mainstreaming Report
Our Equality Mainstreaming Report 2015-17 (1.01 MB) demonstrates our continued commitment to equality and diversity and how seriously it is considered as part of SQA's day to day business and decision making. We also report our progress in achieving our equality outcomes and include SQA's employment monitoring information.
SQA Equality Outcomes 2017-21
Our Equality Outcomes 2017-21 (213 KB) set out the contributory actions we will take forward to achieve these revised outcomes and how we will measure our progress. We also provide detailed information about the sources of evidence that were considered as part of our work to review our priorities and revise SQA's equality outcomes.