Diploma in Management and Leadership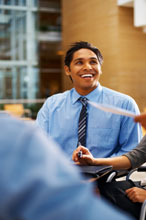 The Diploma in Management and Leadership is designed for candidates who are aiming for a senior management position in an organisation. The award is also intended for experienced managers seeking a nationally/internationally-recognised qualification. It focuses on developing practical skills and applying knowledge in an organisational environment.
This qualification is available through colleges.
Use the tabs below to open each section individually. Alternatively you can show allhide all the sections.
Why deliver this qualification
The Diploma in Management and Leadership:
offers flexible learning
is a nationally and internationally recognised qualification
can lead to entry to higher education or professional body qualifications
enhances career opportunities
develops skills across a range of management areas
Who does this qualification suit
The Diploma in Management and Leadership is suitable for a wide range of candidates including:
adult returners to education
candidates employed in management positions who wish to enhance their career prospects
candidates who are aspirant managers and wish to move into a management position
Access
Access to the award is at the discretion of the centre.
The following recommendations for entry are for guidance only. They are not exhaustive or mutually exclusive and may be considered in a variety of combinations:
any relevant Scottish Group Award at Intermediate 2 or Higher
any two National Qualifications at Higher together with three Standard Grade passes at 3 or above
an SVQ Level 3 in a relevant area
different combinations of relevant and equivalent qualifications from other awarding bodies
televant work experience

 
Candidate Information
The Diploma in Management and Leadership is designed to give you the opportunity to become a qualified and knowledgeable operational or senior manager.
Progression
Candidates could progress to a Management Studies degree or other business degree course. The Diploma in Management also underpins the SVQ Level 4 and SVQ Level 5 awards in Management.
Successful Diploma candidates with three years rounded management experience may be eligible for full membership of the CMI (Chartered Management Institute).
Approval
Centres with devolved authority are eligible to seek approval through their own internal approval process.
Centres without devolved authority will have to come forward for approval and should contact the Business Development Team for guidance in completing the combined CA1/SA1 form.
Assessors and verifiers must be able to meet SQA's general requirements as outlined in the guide to approval.
How to assess
Ongoing course assessment will apply. Each individual Unit specification gives detailed information on the Evidence Requirements and approaches to assessment for each Unit.
As well as more traditional assessment, there are now opportunities for candidates to use ICT to generate their evidence eg Web 2.0 techniques such as blogs, wikis, podcasts, social bookmarking sites and presentation software.
Candidates will also be assessed in relation to a Graded Unit. The purpose of the Graded Unit is to assess the candidate's ability to retain and integrate the knowledge and skills gained in the mandatory Units.
Management: Graded Unit 1 consists of a practical assignment.
Interactive activities are available to support some of the Units.
Where can you take this course?
Qualification content and delivery tools
Current
Group Award Specification
Related Links
Lapsing
These group Awards have been replaced by GF5V 15/GF6G 48 and will finish 31/07/2016.
Centres should note that when a Group Award is entered into its lapsing period, the following will apply:
the Group Award will be deleted from the relevant catalogue

the Group Award Arrangement document will remain until the qualification reaches its finish date at which point it will be removed form SQA website and archived

no new centres may be approved to offer the Group Award
centres should only enter candidates whom they expect to complete the Group Award during the defined lapsing period of 3 years (HNC) and 4 years (HND)
Group Award Specification
Related Links
Offer this qualification