HNC Chemical Engineering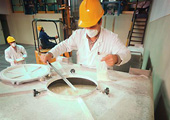 The HNC Chemical Engineering builds on candidates' existing knowledge, and their exposure to the systems and processes used in the chemical industry, to develop their knowledge and skills in chemical engineering. It will develop candidates' skills and enhance their employment prospects by providing a wide range of theoretical and practical knowledge. It also develops 'soft' skills such as working in a team environment, producing reports, and communication.
Use the tabs below to open each section individually. Alternatively you can show allhide all the sections.
Candidate Information
HNC Chemical Engineering
The HNC Chemical Engineering builds on candidates' existing knowledge, and their exposure to the systems and processes used in the chemical industry, to develop their knowledge and skills in chemical engineering. It will develop candidates' skills and enhance their employment prospects by providing a wide range of theoretical and practical knowledge. It also develops 'soft' skills such as working in a team environment, producing reports, and communication. Find out more
Qualification content and delivery tools