Access 2 Art and Design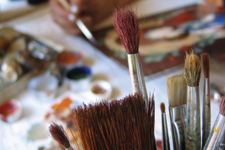 The Access 2 qualification in Art and Design gives learners an awareness of how the visual arts and design affect the society around them. It will encourage them to develop their own opinions about visual images.
The course will give learners a range of skills in creating visual art using a variety of materials. It will give them the ability to express their own ideas in various ways using different materials.
The Access 2 Art and Design Course is at SCQF level 2.
For more information on SCQF levels and how Access 2 fits in to the Scottish Credit and Qualifications Framework, visit our SCQF section.