Intermediate 1 Art and Design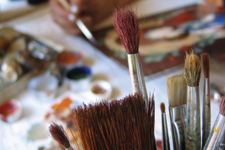 The Intermediate 1 qualification in Art and Design gives learners the ability to express themselves visually. They will develop insights into how imagery works as a means of communication and how Art and Design feeds into cultural heritage.
Learners will gain considerable skills in using materials, managing processes and presenting thoughts and ideas. They will develop their reasoning, analysis and language skills. They will be able to express themselves, solve problems and work directly with materials and equipment in satisfying and enjoyable ways. They will also develop skills to research, investigate, interpret and handle information.
The Intermediate 1 Art and Design Course is at SCQF level 4.
For more information on SCQF levels and how Intermediate 1 fits in to the Scottish Credit and Qualifications Framework, visit our SCQF section.