Intermediate 2 Art and Design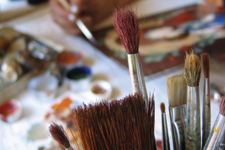 The Intermediate 2 qualification in Art and Design gives learners an understanding and appreciation of the visual arts and design, as well as improving their creative techniques. The course covers these disciplines' history and their place in our cultural heritage. It also explores the relationship between the visual arts and design.
Learners will develop their media-handling skills and creative techniques, as well as their abilities to communicate information. Through complex tasks, learners will develop integrated thought and decision-making. They will gain a thorough ability to apply and control skills, materials and technology.
The Intermediate 2 Art and Design Course is at SCQF level 5.
For more information on SCQF levels and how Intermediate 2 fits in to the Scottish Credit and Qualifications Framework, visit our SCQF section.
Qualification content and delivery tools
Use the tabs below to open each section individually. Alternatively you can view allhide all the sections.
Arrangements Documents
External Assessment Reports
Internal Assessment Reports
Past Papers and Marking Instructions
National Assessment Bank Materials
Course Assessment Packs & Specimen Question Papers
Understanding Standards
Candidate Gallery
Scottish Group Awards
Design Brief/Evaluation Form
Course Material Checklist
Practical Assessment
Related websites
The following websites open in a new browser window.