Higher Art and Design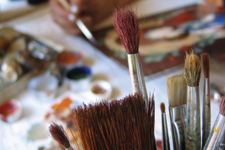 This page is for the existing National Qualification Higher Art and Design Course.
Access information on the new NQ (CfE) Higher Courses.
The Higher qualification in Art and Design gives learners a thorough understanding of their creative skills and the visual environment. They will examine cultural, social and historical influences on visual communication. The course encourages candidates to use materials and technology to understand, appreciate and respond to their world.
Learners will gain skills in the creation of two and/or three-dimensional arts using a variety of materials and technologies. The course develops a candidate's ability to transfer ideas and understanding in sophisticated and specialised ways. They will also develop their problem-solving skills through complex design tasks and investigating themes of their choosing.
The Higher Art and Design Course is at SCQF level 6.
For more information on SCQF levels and how Higher fits in to the Scottish Credit and Qualifications Framework, visit our SCQF section.