Access 3 Art and Design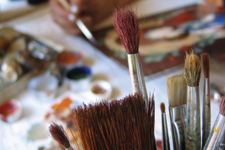 The Access 3 qualification in Art and Design gives learners an understanding of the visual as a way of communicating. They will also gain an appreciation of the role Art and Design play in the contemporary world.
As well as the practical crafts of Art and Design, the skills learners will gain cover the communication of information, working with different materials and research. They will be encouraged to think flexibly and imaginatively to solve problems and analyse their own work and that of others.
The Access 3 Art and Design Course is at SCQF level 3.
For more information on SCQF levels and how Access 3 fits in to the Scottish Credit and Qualifications Framework, visit our SCQF section.
Qualification content and delivery tools
Use the tabs below to open each section individually. Alternatively you can view allhide all the sections.
Arrangements Documents
National Assessment Bank Materials
Course Material Checklist
Related websites
The following websites open in a new browser window.