Advanced Higher Home Economics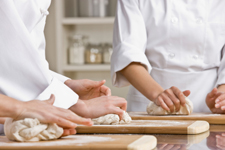 The Advanced Higher qualification Home Economics: Health and Food Technology provides a challenging experience for those who wish to study the subject in depth. The course places emphasis on independent study and objective thinking. Learners will study the food chain, food politics, food science and the function of nutrients. The course also fosters an interest in the psychology of food.
The Advanced Higher Home Economics: Health and Food Technology Course is at SCQF level 7.
For more information on SCQF levels and how Advanced Higher fits in to the Scottish Credit and Qualifications Framework, visit our SCQF section.
Qualification content and delivery tools
Use the tabs below to open each section individually. Alternatively you can view allhide all the sections.
Arrangements Documents
External Assessment Reports
Internal Assessment Reports
Past Papers and Marking Instructions
National Assessment Bank Materials
Course Assessment Packs & Specimen Question Papers
Guidance Documents
Course Material Checklists
Exemplification
Related websites
The following websites open in a new browser window.