HNC Early Education and Childcare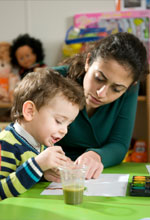 The HNC in Early Education and Childcare at SCQF level 7 provides an understanding of the values and principles which underpin early education and childcare and develops the skills appropriate for working with a range of service users in early education and childcare settings.
The HNC enables candidates to integrate knowledge, theory and practice effectively in a variety of workplace settings and helps them to understand how the National Care Standards and SSSC Codes of Practice should inform their practice.
This qualification is available through colleges and training providers.
Use the tabs below to open each section individually. Alternatively you can show allhide all the sections.
Why deliver this qualification
The HNC in Early Education at SCQF level 7 offers a variety of optional Units so candidates can choose Units which reflect their job roles. Units can also be followed on a stand-alone basis to satisfy continuous professional development (CPD) requirements.
The HNC can be delivered on a full-time, part-time, and partly open learning basis.
This award is recognised by the Scottish Social Services Council (SSSC) for registration purposes.
Who does this qualification suit
The HNC is suitable for full-time candidates who wish to enter a career in childcare.
The HNC is also suitable for existing employees who may be competent in practice through several years of experience but who may wish to explore underpinning theory to a greater depth in order to develop professionally.
Access
Access is at the discretion of the centre. However, candidates should have an understanding of the importance of childcare values and communication skills in delivering good early education and childcare.

It is preferable, but not essential, that candidates have some experience of working in early education, childcare or playwork settings.
Progression
At SCQF level 7, HNC candidates may have the opportunity to progress to the PDA in Childcare and Education, or could gain access to Year 2 of the current BA Early Years Childhood Studies.
Approval
Centres with devolved authority are eligible to seek approval through their own internal approval process.
Centres without devolved authority will have to come forward for approval and should contact the Business Development Team for guidance in completing the combined CA1/SA1 form.
Assessors and verifiers must be able to meet SQA's general requirements as outlined in the guide to approval.
How to assess
Ongoing course assessment will apply. It is recommended that assessment of Units is integrated with Units being delivered together. Optional Units may be delivered as 'stand alone' but, where part of an HNC Course, delivery and assessment should be integrated as recommended.
To gain the HNC award, candidates must pass all the mandatory Unit assessments, including the internally assessed Graded Unit and the necessary optional Unit assessments.
It is expected that full-time candidates will be in placement for a minimum of 60–80 days in order to achieve the workplace Unit Working in an Early Education and Childcare Setting.
Where can you take this course?
Qualification content and delivery tools
Arrangements Documents
Group Award Specifications
Assessment Exemplars
HN Assessment Exemplars - these documents are available from the SQA Secure website.
| Title | Unit Number | Code | Edition |
| --- | --- | --- | --- |
| Children and Young People's Rights - Provision Protection & Participation | DF50 34 | CB2187 | 1 |
| Curriculum and Assessment in an Early Education and Childcare Setting | DF51 34 | CB2159 | 1 |
| Curriculum and Assessment in an Early Years and Childcare Setting | F3S3 34 | F3S3 34/AEX001 | 1 |
| Early Education and Childcare: Graded Unit 1 | DF5E 34 | CB2167 | 1 |
| Facilitating Playwork Opportunities | DF53 34 | CB2160 | 1 |
| Theoretical Approaches to Development and Learning | DF52 34 | CB2157 | 1 |
| Theoretical Approaches to Development and Learning | F3S9 34 | F3S9 34/AEX001 | 1st Edition, December 2009 |
| Working in an Early Education and Childcare Setting | DF4Y 34 | CB2156 | 1 |
Internal Assessment Reports
Monitoring Standards Reports
Unit(s) and delivery tools
Structure
Group Award code: G7CX 15 (96 SCQF credit points)
SCQF level: 7
HNC Early Education and Childcare consists of four mandatory Units (48 SCQF credit points) and six optional Units (48 SCQF credit points).
Mandatory Units
Career and employment information
HNC Early Education and Childcare (Group Award code G7CX 15)
The HNC in Early Education and Childcare offers candidates the opportunity to develop the necessary theoretical knowledge and skills to enable them to work in the majority of Early Education and/or Childcare settings.
The award is suitable for those seeking to work as a practitioner in the childcare and playwork sectors, as well as being suitable for those currently employed in this role.
The choice of Optional Units provides areas of learning which would be suitable as 'stand alone' Units for Continuous Professional Development (CPD) which is a requirement for continued registration on the Social Care Register. They have been developed to meet the varying demands and needs of the sector* *
The SSSC published the Qualifications Criteria for Registration of Early Education and Childcare Workers in March 2004. The HNC Childcare and Education and the new HNC Early Education and Childcare qualifications have been identified as appropriate for practitioners and achievement of these qualifications will allow workers to register with the SSSC.
Additional Information
NQ Subject-specific Information
Contact the Qualifications Manager for NQ Early Education and Childcare:
Mary Hainey

More information on National Certificate Group Awards in Early Education and Childcare can be found in then NQ section of our website which you can access by clicking on the link below.
Offer this qualification