SQA at Offshore Europe 2011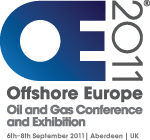 SQA will be attending this year's Offshore Europe exhibition as part of the International Energy Skills and Training Alliance (IESTA) stand at location 1D80.
Along with other IESTA member organisations, the stand will be a hub for expert information about training and qualifications supporting the Oil and Gas and Energy sectors.
Our Business Development Manager, Alistair McKay will be available at the stand to provide information about SQA's wide range of vocational qualifications and Customised Awards service.
Visit him on Tuesday 6 September from 10:30 am to 12noon and again on Thursday 8 September 1pm to 2.30pm. He is also contactable by email at Alistair.McKay@sqa.org.uk
IESTA are inviting delegates to join them for a working lunch. Come along to a short presentation and buffet lunch each day of the event during 12.15pm and 1pm. To attend the lunch, please RSVP to info@iesta.net