Food and Beverage Service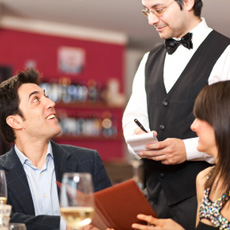 The Scottish Vocational Qualifications (SVQs) in Food and Beverage Service at SCQF levels 4 and 5 ensure candidates gain industry-specific skills and knowledge. The qualifications have been developed based on the standards set by People 1st and is for anyone whose role involves serving food and drink.
Candidates may undertake these qualifications for a variety of reasons, such as to gain promotion, prove job competence or for personal development.
These SVQs are available through colleges and training providers.
Use the tabs below to open each section individually. Alternatively you can show allhide all the sections.
Why deliver this qualification
The SVQs in Food and Beverage Service are work-based qualifications so they can be offered at any time and do not need to follow the academic session. It also opens up the possibility for continued study.
The SVQ recognises the candidate's skills and achievements, and offers enhanced job satisfaction as well as structured opportunities to improve skills and career prospects.
The qualification is nationally recognised, and based on National Occupational Standards.
Who does this qualification suit
The SVQ in Food and Beverage Service is intended for candidates who work as part of a team involved in serving food and drink in restaurants, hotels, cafés and takeaways.
Access
Entry is at the discretion of the centre. As these are work-based qualifications, candidates should be in a position to provide required evidence of competence within the field.
Progression
Successful completion of these qualifications will allow candidates to progress to other SVQs within the Hospitality and Professional Cookery Framework.
These SVQs could also open up further employment opportunities and enhance career prospects.
Approval
Centres with devolved authority for approval should use their own internal approval process.
Centres without devolved authority require to come forward for approval and should contact SQA's Business Development Team for guidance.
Assessors and verifiers must be able to meet SQA's general requirements for technical/occupational competence as outlined in the Systems and Qualification Approval Guide.
Centres should pay particular attention to the requirements set out in the assessment strategy if operating qualification via an RWE.
How to assess
Assessment is mainly through performance in the workplace. Evidence can be gathered through direct observation, product evaluation, questioning, witness testimony or personal statement. Simulation is permitted where it is not practical to assess the candidate in a real work situation.
Where can you take this course?
Qualification content and delivery tools
Information about the qualification(s)
Qualification Structure
National Occupational Standards
Leaflets
Fact sheets
Modern Apprenticeship
The SCQF level 5 SVQ is also part of the SCQF level 5 Modern Apprenticeship in Hospitality
Information about delivery, assessment, quality assurance and support material
Assessment strategy
Assessor's guidelines
Candidate Guidance and Portfolio
Internal Assessment Reports
Offer this qualification