SQA launches two new Scottish Baccalaureate qualifications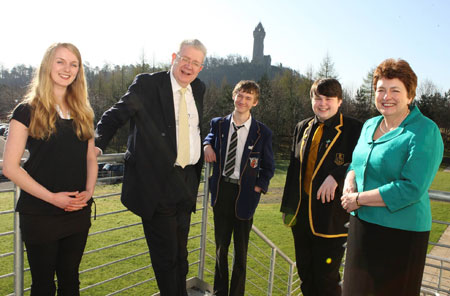 Pictured at the launch are Molly Butler from Mackie Academy in Stonehaven, Michael Russell MSP, Cabinet Secretary for Education and Lifelong Learning, Calum Winter from Bell Baxter HighSchool in Cupar, Kyle Thornton fom Bellahouston Academy in Glasgow and Dr Janet Brown, SQA Chief Executive
SQA has launched two new Scottish Baccalaureate qualifications in Expressive Arts and Social Science.
The new qualifications will be available to pupils and students in schools and colleges from August this year.
The addition of the two new qualifications builds on the success of the Scottish Baccalaureates in Science and Languages which were introduced in August 2009. Since then, over 300 students have studied the language and science baccalaureates and gone on to university or employment.
Scottish Baccalaureates consist of a coherent group of Higher and Advanced Higher qualifications and, uniquely, an interdisciplinary project of candidates' own choosing which is marked at Advanced Higher level.
Dr Janet Brown, SQA Chief Executive, said: "Aimed at high-achieving candidates in their sixth year, the Scottish Baccalaureate is designed to encourage personalised, in-depth study and interdisciplinary learning in the later stages of secondary school. These new Expressive Arts and Social Science baccalaureates give candidates the opportunity to explore these topics independently, something that was only previously available to students studying the Science and Languages Baccalaureates.
"By extending our provision of qualifications, we're allowing candidates with a broad set of interests and aspirations the chance to focus in and manage an area of study which is of particular interest to them and further hone essential skills such as research, planning, problem solving and independent learning which will be of huge benefit to candidates whether they are progressing to further or higher education and eventually employment."
Lesley Balfour, Student Recruitment Manager at Abertay University in Dundee, said: "We welcome the introduction of the new and extended Baccalaureates in Expressive Arts and Social Sciences which broaden the range of qualifications available to young people. The Scottish Baccalaureates provide a challenging and rewarding programme of study, and with their focus on developing skills in the context of key themes such as employability, enterprise and citizenship, provide an ideal basis for future progression to university study in a related subject area."
Professor Seona Reid, Director at the Glasgow School of Art, said: "The Expressive Arts Baccalaureate will provide contextualised learning that will help students to prepare for the specialist, practitioner-led study which characterises higher education for the visual arts, performing arts and design related disciplines. Through use of carefully planned features such as group project work and problem based learning, it will develop students' capacity both as autonomous and team learners and it will create opportunities to work with higher education institutions on projects which provide students with early insights into higher education."
Cabinet Secretary for Education and Lifelong Learning, Michael Russell said: "I am delighted that SQA are launching new Baccalaureates in Expressive Arts and Social Sciences, building on the success of the existing Baccalaureates in Science and Languages. This will give learners greater flexibility to choose subject options that best suits their learning pathway and career aspirations.
"The Baccalaureates are designed to work across subject boundaries, develop deeper learning and critical thinking skills and encourage collaborations across sectors. This embodies the Curriculum for Excellence approach to learning and teaching, and provides important added choice for schools that wish to enhance the offer they make to their S6 pupils. The qualifications are an important contribution to the creation of a skilled and educated workforce for a competitive and resilient 21st century economy."
For further information on the new Scottish Baccalaureates in Social Sciences and Expressive Arts and the extended choice of Science subjects, visit www.sqa.org.uk/baccalaureates