SVQ 3 Custodial Care at SCQF level 7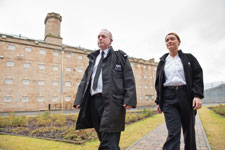 The SVQ in Custodial Care at SCQF level 7 is a nationally recognised award offered by the Scottish Qualifications Authority in partnership with the Scottish Prison Service. It has been developed by Skills for Justice, the Sector Skills Council for the justice and community safety sector, and is intended for people in the custodial care sector.
The mandatory topics range from maintaining security and order in the custodial environment to promoting equality and value diversity. Optional topics include maintaining security whilst escorting individuals to courts and other environments, and developing and sustaining effective working relationships with staff from other agencies.
This SVQ is available through employers (in the public or private sector) and is designed to be assessed in the workplace, or in conditions of the workplace.
Examples of the settings or centres in which the SVQ is likely to be delivered include: remand centres, local and training prisons, immigration removal centres, and The State Hospital.