Sport and Leisure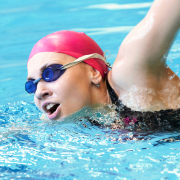 The Sport and Leisure industry has various opportunities from entry level to management level. This sector works across seven key areas: sport, fitness, hair, beauty, playwork, outdoors and caravans.
Our qualifications in this sector give learners the knowledge and skills needed to be successful in the workplace.
About the industry
SkillsActive is officially recognised as the Sector Skills Council for Active Leisure, Learning and Well-being. Active Leisure, Learning and Well-being is made up of seven sectors: sport, fitness, outdoors, playwork, caravans, hair and beauty.
Sportscotland work with partners to provide more and better opportunities in sport and the SQA are our Awarding Body Partner. We have developed a strong strategic partnership with SQA to ensure that the qualifications reflect the needs of the sports industry and that current awards are relevant and fit for purpose. Colleagues at SQA have a clear understanding of our sector and work closely with us to support our Scottish Governing Body Partners.
Stewart Harris, Chief Executive of sportscotland
Industry recognised qualifications
Sports Coach UK are pleased to have worked in partnership with the SQA to develop the National Occupational standards for sports coaching in the UK and to develop the new units of common content for sports coaching. Working together, Sports Coach UK and SQA are well placed to support the Scottish and UK Governments' health agenda by developing engaging solutions and increasing participation in sport. Anne Baker, Sports Coach UK
The Scottish FA is delighted to be delivering a successful Referee Development Award, run in partnership with SQA and Specsavers. It is a core part of the Scottish FA Referee Operations Department's strategy to encourage and increase participation in football refereeing and is implemented through PE departments across the country. It provides an opportunity for secondary school pupils to become involved in refereeing and broaden their football knowledge. The Referee Personal Development Award teaches the young people core skills in numeracy, working with others, leadership and communication. It also helps the candidates develop personally. John Fleming, Scottish FA Head of Referee Operations
Getting into the industry
Skills for Work: Sport and Recreation National 4
National 4 Skills for Work: Sport and Recreation is an introductory qualification. It develops the skills, knowledge and attitudes needed for work in the industry.
The Course content covers the main practical activities involved in carrying out a support role in a sport and recreation environment — assisting with planning, setting up and delivering activity sessions; assisting with setting up, dismantling and checking equipment and resources; assisting with accident and emergency procedures; dealing effectively and courteously with customers/users, staff and others; helping to plan and review a personal training programme, establishing good practice in setting and reviewing personal goals. The Course content also covers Health and Safety legislation. Find out more

Level One
Level Two
Level Three
Level Four
Level Five
Level Six
Level Seven
Level Eight
Level Nine
Level Ten
Level Eleven
Level Twelve