Retail Sector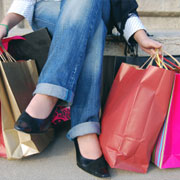 The Retail sector is the UK's largest private sector employer, employing around 2.77 million people. SQA qualifications have been designed to equip people with the skills and knowledge needed to work within this sector.
We offer a variety of qualifications at different levels within this sector, including: Retail Management, Retail Skills, Sales Professional, Visual Merchandising and much more.
About the industry
People 1st
People 1st is the leading skills and workforce development charity for employers in the hospitality, tourism, leisure, travel, passenger transport and retail industries focusing on transforming skills in the sector through the development of effective recruitment, training and talent management solutions.
Getting into the industry
Skills for Work: Retailing National 5
National 5 Skills for Work: Retailing provides a broad, experiential introduction to the sector and gives learners the practical skills, knowledge and attitudes, needed to work in retailing. Learners will develop an understanding of the needs of a retailer and an appreciation of the importance of customers. They also gain important employability skills and Positive attitudes to the workplace and learning.

Level One
Level Two
Level Three
Level Four
Level Five
Level Six
Level Seven
Level Eight
Level Nine
Level Ten
Level Eleven
Level Twelve