Oil and Gas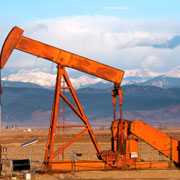 Oil and gas are the lifeblood of the global economy, and the oil and gas industry will continue to energise the country's future for many years to come.
SQA's qualifications for the oil and gas industry have been developed with the industry to ensure they are relevant, even in the face of the most hostile conditions.
Staff have to know exactly how to do their job properly and be able to rely on the person next to them to do the same. SQA qualifications are designed to ensure that everyone is fully competent and can prove their competence. Many SQA qualifications are offered in partnership with OPITO (for Upstream qualifications) and we have strong links with Cogent (for Downstream qualifications) and employers.
About the industry
OPITO is the skills organisation for oil and gas. They are the industry's focal point for skills, training and workforce development and aim to support the industry build a sustainable, competent and safe oil and gas workforce and ensure that quality, innovation and partnership underpin everything that they do.
'As the recognised skills organisation for the global oil and gas industry, OPITO continues to identify a requirement for accredited vocational training and achievement of standards set by the industry. SQA's ability to award vocational qualifications against industry standards plays an integral part in ensuring the oil and gas industry can meet this requirement and develop the key skills and competences for their workforce'
John McDonald, UK Managing Director, OPITO
Getting into the industry
Skills for Work: Energy National 5
The National 5 Skills for Work: Energy Course provides a basis for progression into further education or for moving directly into training or employment within the energy sector.
Learners explore the various UK-based energy industries and develop practical skills by building a small-scale solar hot water system and wind turbine. They also develop their employability skills and review their strengths and weaknesses — which are then used to help suggest the most appropriate career for them within the energy sector.
There is an opportunity to specialise in one subject area such as analysing their own carbon footprint, or developing a deeper knowledge of oil and gas production in the North Sea, or learning more about the conventional energy generation systems used in the UK.

Level One
Level Two
Level Three
Level Four
Level Five
Level Six
Level Seven
Level Eight
Level Nine
Level Ten
Level Eleven
Level Twelve