Manufacturing and Engineering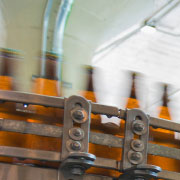 The Manufacturing and Engineering sector is a large employer within the UK. SQA offer a variety of qualifications, ranging from: Print Finishing and Binding to Upholstery and Soft Furnishings and much more.
About the industry
Proskills UK is a registered charity aiming to train and educate people working in the materials, production & supply industries. Proskills UK aims are to promote, advance, and provide training and education for persons working in or intending to work in the material, production and supply industries, and in Health & Safety.
Getting into the industry
"Semta is committed to working with the best awarding organisations across the country, including SQA. Our priority is ensuring our standards and frameworks meet the needs of employers and SQA has played a key role in helping us achieve this. We look forward to working with SQA in the future."
Ann Watson, Chief Executive, Semta.
National 4 Design and Manufacture
The National 4 Design and Manufacture Course develops skills in the design and manufacturing of models, prototypes and products, and knowledge and understanding of manufacturing processes and materials. Learners also gain an understanding of the impact of design and manufacturing technologies on our environment and society.

Level One
Level Two
Level Three
Level Four
Level Five
Level Six
Level Seven
Level Eight
Level Nine
Level Ten
Level Eleven
Level Twelve