Land based and Environment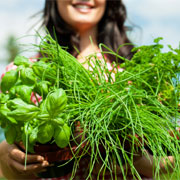 This industry makes up 6% of all UK businesses – employing 660,000 people. Our qualifications have been developed with industry, to ensure they are relevant and provide people with the skills needed to work within the Land Based and Environment sector.
SQA qualifications within the Land Based and Environment sector cover a wide variety of disciplines: including; Animal Care, Aquaculture, Horticulture, Forestry, Landscape Management and much more.
About the industry
Lantra are the UK's Sector Skills Council for land-based and environmental industries. They are committed to helping land-based and environmental businesses access the training, qualifications, skills and knowledge they need.
Lantra works in partnership with SQA to develop standards and quality assured vocational qualifications for the land-based, aquaculture and environmental sector. As the Sector Skills Council for these industries, Lantra plays a key role in helping industry to access training and professional development solutions that will enable them to recruit, grow and retain a highly skilled, world-class workforce.
Jo-Anne Bryan, Lantra's Standards and Qualifications Manager
Industry recognised qualifications
Glasgow City Council Land and Environmental Services (LES) have worked in partnership with the SQA for a number of years. Over the years we have built up a close relationship with SQA and found them to be very supportive in setting up and running our Training Centre.
We have been delivering SVQs to our Modern Apprentices and mainstream staff within the land-based sector: candidates can complete full qualifications or individual units in subjects such as the Environment, Horticulture, and Green Keeping. LES are committed to developing their staff; the SVQs are an ideal fit within a work environment. The benefits to the business and staff can be clearly seen with positive feedback from managers and increased confidence amongst employees.
Billy Kenny, Training Co-ordinator, Land and Environmental Services, Glasgow City Council
Getting into the industry
Skills for Work: Rural Skills National 4
National 4 Skills for Work: Rural Skills is an introductory qualification. It develops the skills, knowledge and attitudes, needed for work in the land-based industries.
This Rural Skills Course allows candidates to begin to develop some of the basic practical skills necessary to work in most of the land-based disciplines — areas such as agricultural livestock, equine industries, horticulture, landscaping, agricultural crops and animal care. The Course also provides the opportunity to explore the very diverse employment prospects that exist in land-based industries. There is then a choice of a plant or an animal route, where candidates can develop some of the basic skills for the chosen route.

Level One
Level Two
Level Three
Level Four
Level Five
Level Six
Level Seven
Level Eight
Level Nine
Level Ten
Level Eleven
Level Twelve