Health and Social Care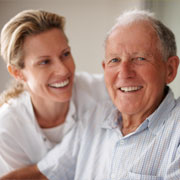 This is an exciting time to be working in Health and Social Care. SQA is at the forefront of developing new and relevant qualifications covering a huge range of roles at every level in the Health and Social Care sector.
From support staff, medical administrators, healthcare support workers to staff working in clinical roles, SQA qualifications are relevant for everyone — whether you are in school, college or in a workplace.
About the industry
Skills for Health major in workforce and organisation development. They are the employers' trusted provider of workforce solutions designed to improve healthcare, raise quality and improve productivity and financial performance. Skills for Health are a not for profit organisation and the Sector Skills Council for the whole UK health sector, licensed by Government.
Skills for Health and SQA have worked together for the benefit of the health sector for many years. We are pleased that SQA continue to offer vocational qualifications which meet our employers needs and, with a sector which is changing quite rapidly, we look forward to continuing to work in partnership in the coming years.
Vicky Yearsley, Senior Manager NOS, Qualifications and Apprenticeships, Skills for Health
Industry recognised qualifications
Fife Council Social Work Services places great value in our partnership with SQA. The high quality learning materials and range of qualifications has helped to enhance, develop and build the confidence of our workforce. The improvement we see in our workforce is an increase in individual's knowledge, practical skills and fuller understanding of their role and the important part it plays in supporting the people who use our services.
We deliver a range qualifications including SVQ 2, 3 and 4 across Social Services and Healthcare, Professional Development Awards in Care Service Management and Business Skills and most recently, National Certificate qualifications to support a range of stakeholders, including service users to enable access to a range of learning opportunities to support practice, their employment objectives or development potential.
Dafydd McIntosh, Lead Officer Qualifications and Development, Fife Council Social Work Services
NHS Ayrshire and Arran has been an established accredited SVQ Centre for many years offering SVQs in Business and Administration, Healthcare Support (clinical and non-clinical), Learning & Development, Management and Modern Apprenticeships in Dental Nursing. The delivery of these awards is aligned to the ethos of our organisation and its purpose, values and quality ambitions to support and enhance the provision of modern health services.
Through our SVQ programmes candidates develop their knowledge, skills and confidence in the work setting to take on extended roles and career advancement. Some have also had the opportunity to take the learning and credit points gained into Further and Higher Education courses.
David Black, Learning and Development Manager, NHS Ayrshire and Arran
Getting into the industry
Skills for Work: Health Sector National 4
The Course introduces candidates to the health sector. Candidates will investigate the different types of services provided and the roles and responsibilities of those working in a type of health provision. They will also investigate the career opportunities in the health sector.
Candidates will also explore care values, and participate in practical activities that allow them to demonstrate care values, including maintaining confidentiality and an awareness of equality and diversity. They will also assess risks in relation to infection and participate in practical activities to demonstrate infection control measures.

Level One
Level Two
Level Three
Level Four
Level Five
Level Six
Level Seven
Level Eight
Level Nine
Level Ten
Level Eleven
Level Twelve