Food and Drink Manufacturing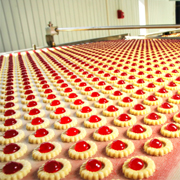 The Food and Drink sector covers the manufacturing processes and recipes of food and drink products, and the processes and machinery for making products.
Our wide ranging qualifications equip people with the knowledge, skills and confidence to be successful within this sector.
About the industry
"As UK Skills Council for the Food and Drink manufacturing and processing sector, Improve has worked with the Scottish Qualifications Authority (SQA) as our awarding body partner over many years. SQA's Food and Drink qualifications are developed with the industry as quality-assured certification of knowledge and skills critical to the continued growth of food and drink manufacturing as a priority economic sector in Scotland."
Justine Fosh, CEO, Improve Scotland
West Lothian - Partnerships in Food and Drink Education
Watch the video case study on West Lothian - Partnerships in Food and Drink Education.
Getting into the industry
Skills for Work: Hospitality National 4
Skills for Work Hospitality at National 4 (SCQF level 4) provides a broad, practical introduction to the hospitality professions.
The Course enables candidates to experience the professional kitchen and restaurant and to learn about the different roles and responsibilities in hospitality professions. It begins to develop vocational skills and knowledge.
All Units in the Course place emphasis on the employability skills and attitudes that will help to prepare candidates for the workplace. Candidates will have the opportunity to develop the skills involved in preparing, cooking, presenting and serving food and drinks. Candidates will also gain practical experience of working in a realistic working environment.

Level One
Level Two
Level Three
Level Four
Level Five
Level Six
Level Seven
Level Eight
Level Nine
Level Ten
Level Eleven
Level Twelve