Engineering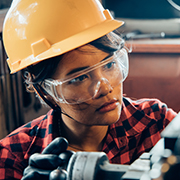 There has never been a better time for talented people to become engineers – it is estimated that 2.2 million new engineering employees will be needed over the next 10 years. That makes it one of the most exciting and rapidly evolving sectors in the UK and around the world.
SQA Engineering qualifications are used in a number of engineering sectors including Power Generation and Renewable Energy, Electronics, Oil & Gas, Defence Aerospace and Shipbuilding, Mechanical Equipment Manufacture. All of our qualifications recognise learner achievement, demonstrate competence to work in the sector, and have been developed in close association with the industry.
About the industry
Semta is responsible for engineering skills for the future of the UK's most advanced sectors. Led by employers, Semta's role is to transform the skills and productivity of the people who power our engineering and advanced manufacturing technologies sectors, enabling UK industry to compete on the global stage
Semta is committed to working with the best awarding organisations across the country, including SQA. Our priority is ensuring our standards and frameworks meet the needs of employers and SQA has played a key role in helping us achieve this. We look forward to working with SQA in the future. Ann Watson, Chief Executive, Semta.
Scottish Association For Engineering Education (SAFEE) is a professional association for all staff with posts of responsibility for engineering in further education colleges in Scotland.
As the authoritative voice of Engineering Education in Scotland, SAFEE work extremely closely with SQA given their position as the premier Scottish Awarding Organisation for the sector. We have an excellent working relationship with them as they understand what employers need. Stewart McKinlay SAFEE Chair
Getting into the industry
Skills for Work: Engineering Skills National 4
This Course develops the generic and practical skills, knowledge and understanding and employability skills needed in an engineering sector.
It focuses on the four broad areas of Mechanical, Electrical/Electronic, Fabrication, and Manufacture. This allows the candidates to gain basic transferable skills that can be applied to any of the above engineering areas.
The Manufacture and Assembly Unit allows candidates the opportunity to apply their mechanical, electrical/electronic and fabrication skills to making and assembling an artefact. Find out more

Level One
Level Two
Level Three
Level Four
Level Five
Level Six
Level Seven
Level Eight
Level Nine
Level Ten
Level Eleven
Level Twelve