Creative and Cultural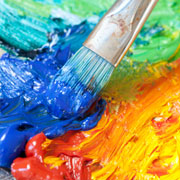 There are approximately 3,000 businesses in Scotland employing 57,000 people within the Creative and Cultural Skills sector. We work with industry to develop qualifications that meet national standards and equip people with the skills to be successful within this sector.
SQA qualifications within the Creative and Cultural skills sector range from: Music Business to Jewellery Manufacture, and much more.
About the industry
Creative & Cultural Skills and the National Skills Academy for Creative & Cultural work across England, Northern Ireland, Scotland and Wales and are members of the Alliance of Sector Skills Councils, collectively representing the skills needs of UK industry.
"We are keen to continue to work with SQA in the future as a trusted partner who supports the creative and cultural sector."
Dawn Hillier, Head of Qualifications, Creative and Cultural Skills
Industry recognised qualifications
Creative Skillset empowers the Creative Industries to develop skills and talent by influencing and shaping policy, ensuring quality and by securing the vital investment for individuals to become the best in their field and for businesses to grow.
As the industry skills body for the Creative Industries, Creative Skillset work across film, television, radio, fashion, animation, games, visual effects, textiles, publishing, advertising and marketing communications.
Creative Skillset has built a positive partnership with SQA over the last few years as we have worked together to develop a wide range of provision for Scotland's Creative Industries – across areas as diverse as media production to textiles heritage skills. The fact that these qualifications are being adopted by leading employers in Scotland is testament to the effort SQA puts in to working with us to understand employer needs. This insistence on industrial relevance delivers meaningful learning that supports personal progression and economic competitiveness and growth.
Alasdair Smith, Scotland Director, Creative Skillset
Getting into the industry
Skills for Work: Creative Digital Media National 4
National 4 Skills for Work: Creative Digital Media is an introductory qualification that develops the skills, knowledge and attitudes, needed for work in the creative digital media industry.
Learners will gain an awareness of development and production processes in the industry: starting with awareness-raising experiences, moving through creative and technical requirements and considerations, and culminating in the experience of a mixed-media production project.

Level One
Level Two
Level Three
Level Four
Level Five
Level Six
Level Seven
Level Eight
Level Nine
Level Ten
Level Eleven
Level Twelve