SQA showcases Wider Achievement Awards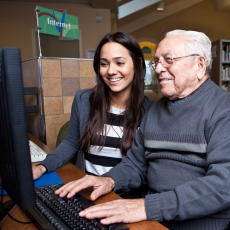 Wider Achievement Awards are available in a number subjects such as employability, enterprise and volunteering skills. They complement SQA's National Qualifications, giving young people an additional study option while at school or a qualification that can be delivered by an employer or a training provider.
We produced a series of short films that showcase the value and flexibility of our Wider Achievement Awards. The films demonstrate a variety of ways the awards are being delivered and the role they play in developing and enhancing learners' skills:
Morrison Construction has adopted SQA's Employability Award as part of its corporate social responsibility strategy, giving young people at school a meaningful insight into the construction sector.
Dumfries and Galloway Council introduced the Employability Award into its training programme to support young people with additional support needs who are looking to enter the work place.
Aberdeen City Council included SQA's volunteering skills award as part of their Cultivate programme, which helps adult learners develop employability skills within the arts and creative industries.