We would like to thank you all for your interest and support for the Connecting with SQA e-zine. The e-zine will be taking a break over the summer and your next issue will be sent to you in September 2007. Have a great summer holiday!
The time is right for 'Write Times'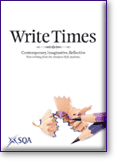 We are celebrating the exceptional work of talented learners by publishing Write Times, a collection of creative writing produced by candidates at all levels from Standard Grade to Higher National Certificate.
The book was launched on 14 June, with several of the authors present to give readings of their work.
At the launch, SQA Director Tom Drake explained why we have published this collection. 'There is fantastic work being produced across Scotland's schools and colleges by our students and their teachers. We at SQA have an important role to play in encouraging talent – not simply assessing and certificating achievements, but in promoting and celebrating the best talent too'. He added, 'the pieces we selected are not about what marks we awarded or the grades they gained – they are in the collection because of their quality, maturity and the images they portray to the reader'.
Copies of Write Times will be distributed among Scotland's schools and colleges, as well as Universities across the UK. In particular we will make them available to teacher training colleges so that new teachers can be inspired by the writings it holds. The book covers four genre – poetry, drama, fiction and non-fiction, featuring a number of different contributions.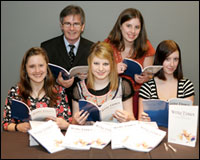 The pieces included were selected by a panel of SQA experts, including the Principal Assessors for Higher and Advanced Higher English. The book can only include a limited number of the outstanding pieces of work that were considered.

To showcase all the work, we have launched a special section of our website, making all this marvellous writing available to the million plus visitors who visit our website every year. In addition, a special poster campaign is running on Glasgow's underground system to highlight the book, featuring 'Uist Street' a poem by Tracy Patrick from Reid Kerr College, Paisley.

For a copy of the book, please get in touch with our Customer Contact Centre (tel: 0845 279 1000). You can also read all the pieces on our website.