Launch of 5-14 Assessment Bank in Gaelic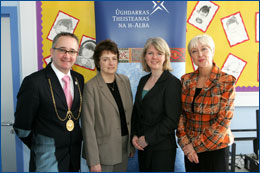 We are delighted to announce the launch yesterday of the 5-14 Assessment Bank in Gaelic - an online resource which provides assessment tools to teachers, allowing them to verify their judgement on the progress made and levels reached by pupils - for the first time now available in Gaelic for Mathematics, Reading and Writing. The assessment materials have been written by teachers and have undergone a rigorous process of validation and pre-testing.

In Mathematics, there are 10 assessments at each level from A to F, covering information handling; numbers, money and measurement; shape, position and movement; and problem solving.
There are now 36 different Reading assessments, also covering all six levels, and all completely new, using Gaelic texts rather than translations of English texts. Work is underway to increase this Bank from 36 items to 60.
24 Writing assessments have been developed along with a further 9 assessments in Writer's Crafts. These assessments are translations from English that have been selected by Gaelic teachers as being particularly appropriate.

This project has been developed by us in partnership with Learning and Teaching Scotland, the Assessment is for Learning team, and the Scottish Executive's Smarter Scotland initiative, and was launched at Glasgow's Gaelic School by popular TV and Gaelic personality Cathy MacDonald.
Speaking about this development, SQA Chief Executive Dr Janet Brown said, 'We strive to make Scotland's qualifications system as inclusive as possible and I'm delighted that we have now developed this bank of materials in Gaelic. This is another example of how we at SQA are working hard to support our Gaelic community, and Gaelic learning'.