Our programme of Professional Development Workshops (PDWs) until March 2009 is now available on our website. Booking has never been simpler – you can now book via the website using our new online booking form, saving you time and money.

During May and June we are running the following workshops:

Principles and Practice of Credit Rating for the SCQF
Date: 29 May
Duration: full day
Location: Glasgow

Quality Assurance for Schools
Date: 3 June
Duration: full day
Location: Glasgow

Assessment and Portfolio Building in an SVQ Programme
Date: 23 June
Duration: full day
Location: Glasgow
Meeting the Requirements of V1
Date: 24 June
Duration: full day
Location: Glasgow

Preparing for Candidate Queries about the 2008 SQC
Date: 25 June
Duration: half day
Location: Glasgow

Delivery and Assessment of the Refreshed PC Passport 2007 for Employers and Training Providers
Date: 30 June
Duration: half day
Location: Glasgow
All our PDWs give you the opportunity to gain further knowledge from experienced SQA staff, network and share best practice with colleagues. You will also receive a workshop pack for future reference and a personalised Continuing Professional Development Certificate.
If you require any further information please contact us on 0845 279 1000.
---
As part of the SQA and Adobe DIVA partnership, a two-day training event is being organised to help centres prepare for the National Progression Award in Web Design and the related NQ Units.
On Day One, training will be offered in Adobe Dreamweaver, focusing on the requirements of Units F181 11 Web Design Fundamentals, and F182 11 Web Design and Development.
On Day Two, training will be offered in Adobe Flash CS3, focusing on the requirments of Unit F180 11 Interactive Multimedia for Website Development.
The event will give you the opportunity to discuss the requirements of the related NQ Units with staff who have either delivered the Units or have been involved in the Unit development.
There will also be demonstrations of other Adobe products including Adobe Acrobat Connect and Adobe Captivate.
Date: 24th and 25th June 2008
Cost: £50 per person per day (including sandwich lunch)
Times: 10am – 4pm
Venue: Adam Smith College, Stenton Campus, Glenrothes
To book, please contact Colin Maxwell or call 01592 223719. Bookings must be received by Friday 13 June.
---
The annual HN Conference will be held on Wednesday 19 November 2008 in the Radisson Hotel, Glasgow.
Further information and registration details will be available at the beginning of September.

---
HN Social Sciences Staff Development Event
The next event will be held on Tuesday 18 November in Jurys Inn, Jamaica Street, Glasgow. More details to follow after the summer holidays.
---
A letter has been e-mailed to all centres enclosing the 2008 timetable for certification and awards reporting. The full timetable is also available on our website.

---
The Association of Chartered Teachers Scotland (ACTS) will be launched this September and will be open to all teachers who have completed Module 1 right up to those who are Point 6 on the scale.
A steering group has been working since January to establish the association and is keeping everyone up-to-date on progress via a weblog. Further information can be downloaded from this site from June.
---
All Heads of Centre should now have received a letter advising of the increase to entry charges for National Qualifications, Higher National Qualifications and Scottish Vocational Qualifications, as well as other qualifications and services, to be implemented this year.
There will be an increase of 3 per cent for National Qualifications, Higher National Qualifications and Scottish Vocational Qualifications. The full details of our new charges structure, which will be applicable from 1 August 2008, will be posted on our website soon.
Please contact your Customer Support Manager if you wish clarification of any of the charges.
---
---
We are carrying out an audit of hardware and software currently in use for delivery of Business Education Courses within centres. We would appreciate if you could take a few minutes to complete the online survey which will remain open until 30 June 2008.
The information collected will inform decisions on the software used when preparing electronic files for future Administration exams and support.
---
Please note the arrangements for the packaging of examination material for Computing Studies (Intermediate 1) on 2 June.
If you have candidates entered for this subject you will see that the column headed 'Expected Scripts Packets/Items' on the Carrier Report shows a series of hash symbols. The hash symbols are there to indicate that the script packets require to be bagged separately from any other subjects being submitted on the same day, and the bags labelled differently - using SQA/SPDS SCAN CENTRE labels on the outside of the polyenvelope.
If you realise you have packaged any materials incorrectly, please email Ray Cameron or call 0131 561 6951.
---
---
New website to aid understanding of HN assessment standards
SQA will soon launch a website to help teaching professionals understand more fully the standards of assessment used in Higher National (HN) qualifications.
In February 2005, we launched the Understanding Standards Website to aid understanding of the standards of assessment used in qualifications that we offer. The website covers over 50 National Qualifications and Core Skills Courses and receives around 10,000 hits a month. The new site will now include HN qualifications.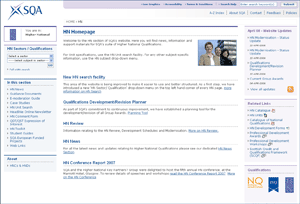 In time, the site will cover the following subject areas:
Accounting
Administration and Information Technology
Advertising and Public Relations
Applied Science
Business
Electrical Engineering
Electronics
Introduction to Tutoring in Adult Literacies Learning
Marketing
Professional Cookery
Travel and Tourism
The site is still a work in progress but we have decided to release this early version (called 'HN Beta') to a wider audience because it will be particularly valuable during this busy assessment period. The earlier release will also let us gather feedback for future development.
The website address is www.understandingstandards.org.uk. Please contact your college SQA Co-ordinator for password details. If you encounter any problems with the site or have suggestions for improvement, please contact us.
For more information please email Douglas McMillan.

---
Chinese language Courses launched
Our first-ever National Qualifications Courses in Chinese languages were launched across Scotland at an event in Edinburgh earlier this month.
The event aimed to introduce teachers and lecturers to the new qualifications in Cantonese and Mandarin at Intermediate 1 and 2. The qualifications have been developed in close partnership with Hanban, The Office of the Chinese Language Council International, which promotes the learning and teaching of Chinese throughout the world. Learning and Teaching Scotland is developing teaching materials to support the delivery of the qualifications which will be available from August 2008.
Minister for Schools and Skills, Maureen Watt MSP was in attendance at the event in the city's Balmoral Hotel, along with Mr Tian, Minister Counsellor in the Education Section of the Chinese Embassy in London; Mr Wang, Director of New Initiatives and International Exchange, Hanban, Beijing; and Madame Tan, Consul General for The People's Republic of China in Edinburgh.
Around 100 delegates attended and took part in workshops throughout the day to familiarise themselves with the qualifications. The workshops allowed the delegates to see the draft teaching materials and to discuss best practice in the delivery of the Courses.
The development of these qualifications, which are significant additions to our modern languages portfolio, reflects the increasing interest in China and its growing impact on life in the western world. Until now, we have offered Units in Mandarin and Cantonese but these are the first full Courses including end-of-Course examinations to be introduced in these languages. A target has been set that 200 candidates will have completed the first Courses by 2010. We will introduce Higher and Advanced Higher Courses in 2009, for certification in 2010.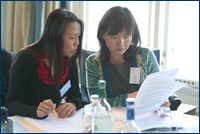 SQA Chief Executive, Janet Brown said, "This is a very significant development for us and another clear example of how eager we are to see our range of qualifications kept up to date so that they can work for today's learners, today's businesses and today's economy."

Maureen Watt, Minister for Schools and Skills, said "We want to equip our young people with the skills and awareness necessary to live and work effectively in the global economy.
"Stronger educational ties with China presents an enormous opportunity for Scotland. I am delighted that these new qualifications have been developed by SQA in partnership with Learning and Teaching Scotland, the Scottish Government and the wider education community."
---
Scottish Learning Festival 2008
Registration is now open for the Scottish Learning Festival 2008 which takes place on 24 and 25 September at the SECC and Clyde Auditorium in Glasgow. Entry is free to all teachers and educationalists.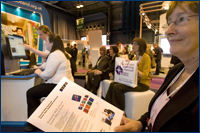 Now in its ninth year, the event is the only one in Scotland to cover all the key educational issues and initiatives, contributes to continuing professional development, shares innovative practice for the classroom and showcases new teaching resources. It is the largest annual conference and exhibition in the Scottish education calendar, with more than 170 inspirational seminars, a host of fringe activities and up to 200 exhibitors in a packed programme of events. Curriculum for Excellence will be the main theme of this year's event, along with a focus on Glow, the national education intranet which is currently being rolled out across Scotland.
Keynote speakers for 2008 include:
Fiona Hyslop MSP, Cabinet Secretary for Education and Lifelong Learning
Professor Richard Teese, Centre for Post-Compulsory Education and Lifelong Learning, University of Melbourne
Ellen Moir, Executive Director of the New Teacher Centre, University of California
Charles Leadbeater, Leading Authority on innovation and creativity
A full conference programme and booking form is available from the festival website. Don't wait to register as many of the seminars are fully subscribed before the summer holidays. If you would like more information about group bookings or have a general query about the Scottish Learning Festival, please call 0870 421 1938 or email the organisers.
---
Nominate your stars!
Nominations are now open for this year's star awards, recognising the success, triumph and achievement of the best in Scottish education and training.
The awards recognise both individuals and centres. A full list of all 12 categories can be found on our website, along with nomination forms and guidance on nominating.

This year, we have introduced a new category - the SQA Star Award for Appointee of the Year. Every year we rely on the professional service provided by around 15,000 appointees, undertaking a wide range of tasks. This category is open to all SQA appointees – Principal Assessors, markers, verifiers, setters, vetters and invigilators, acknowledging those appointees who have demonstrated outstanding commitment to SQA over time.
If you have a star in mind - for any category - get on board and nominate them today!
---
National Progression Award in Business Improvement Techniques
We have recently validated a new National Progression Award in Business Improvement Techniques. This award has been developed in response to demand from industry for nationally-recognised short programmes in business improvement techniques.
The short programmes introduce employees to some of the basic principles and equip them with the fundamental skills of 'Lean Management'.
The Award consists of three Units which cover the basic principles of Lean Management, Lean Manufacture or 'Six-Sigma' techniques. These techniques are being introduced by many industry sectors to improve their business quality and efficiency.
Assessment of the Units can be integrated in the workplace - for example, by a group of candidates undertaking a business improvement project.
For further information on this Award please contact caroline.hunter@sqa.org.uk.
---
Core Skills for the Future
The Core Skills qualifications have recently been refreshed and are ready for first candidate entry in August 2008. Further details of progress in this area and links to the new Units and Assessment Support Packs can be found in the Core Skills for the Future Bulletin, which details the development.
Read the Spring 2008 edition of the Bulletin and all previous editions .
---
Scottish Government Review of NQs
As you will know, on 24 April the Scottish Government announced a formal consultation on a review of National Qualifications in the context of Curriculum for Excellence. We will be working closely with the Scottish Government and other partners to ensure that future arrangements for National Qualifications will reflect the values, purposes and principles of Curriculum for Excellence.
The Scottish Government press release
The announcement of the consultation
---
Centre updates - new process
We are always looking at ways to improve the service we offer to our customers. Further to recent feedback received regarding our centre update procedure we have introduced the following improvements to simplify the process.

All changes to centre details and contacts will have to be sent to us via the online Centre Update form which is available on our website. This change will take effect immediately.

Our systems will be updated within 24 hours of receiving the update form (Monday to Friday, excluding local and national holidays).
The main benefits of these changes are:
a clearly identified, central point of contact
clarity of data sent and received
updates completed in 24 hours
all relevant personnel informed
Please remember the online form is for changes to main centre contact details:
SQA Co-ordinator, Head of Centre
centre name
main centre address and email
telephone/fax numbers
Any other changes should be sent direct to the relevant business area or designated contact.
If you have any queries please contact the Customer Contact Centre on 0845 279 1000 and ask for Tracey Curran.
---
SQA/Microsoft Partnership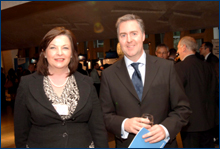 As part of the continuing SQA/Microsoft partnership, a parliamentary reception was held at Holyrood on 23 April to celebrate and showcase the diverse range of projects we have been involved in.
Fiona Hyslop, Cabinet Secretary for Education and Lifelong Learning, and Raymond O'Hare, Director for Microsoft Scotland, gave the keynote speeches.
The Cabinet Secretary and guests were introduced to the various projects and commemorative plaques were presented to each project.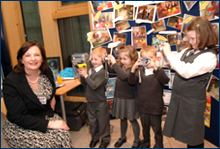 Children from Dens Primary School, Dundee, interviewed Fiona Hyslop using their digital cameras, which help them in nursery to primary transition.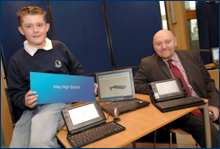 Islay High School demonstrates its portable PCs, linking the young people from this remote community with the Mainland and the rest of the World.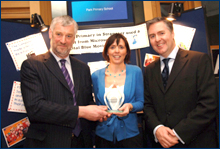 Park Primary School receiving their commemorative plaque. Park Primary's children use Digitalblue Movie Creator to create records and videos.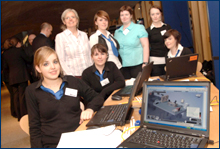 Pupils from Drummond Community High School show off their business management and entrepreneurial skills.
---
Home Economics and Hospitality courses launched
Two new Access 3 Courses - Home Economics: Health and Food Technology and Hospitality: Practical Cookery - were launched at an event on 25 April. Over 100 teachers attended the launch at the Carnegie Conference Centre, Dunfermline.
Home Economics: Health and Food Technology (Access 3)
This new Course has been developed to give candidates and teachers more choice at Access 3 level and to provide a foundation for candidates who wish to progress to study Home Economics: Health and Food Technology at a higher level. This very practical Course focuses on developing candidates' understanding of the importance of following a balanced diet, and teaches them how to prepare and cook simple healthy dishes. The Course comprises the following Mandatory Units:
Healthy Cooking (Access 3)
Food Product Development (Access 3)
Technology in the Kitchen (Access 3)
The National Assessment Banks for this Course are available now on our secure website.

Hospitality: Practical Cookery (Access 3)
This Course focuses on the development of candidates' practical food preparation and cookery skills and will allow them to progress to Hospitality: Practical Cookery (Intermediate 1). It is effectively a retitling of the current Home Economics: Health and Food Technology Course, and comprises the following Mandatory Units:
Food Preparation Techniques: An Introduction (Access 3)
Cookery Processes: An Introduction (Access 3)
Hospitality: Organisational Practical Skills (Access 3)
Food Hygiene for the Hospitality Industry (Access 3)
Please note that although Food Preparation for Healthy Eating does not form part of this new Course, it will continue to be available as a free-standing Unit.
As a result of these developments, the current Home Economics: Health and Food Technology (C118 09) will be removed from the catalogue in July 2008. Please note that after this date you will no longer be able to enter your candidates for this Course.
You can enter your candidates for the component Units in session 2008/2009 which could allow them to complete the Course if they have already achieved some of the Units.
Launch of Skills for Work Hospitality (Intermediate 2)
This Course was launched on 22 April in the Dunblane Hydro Hotel and was attended by over 100 delegates from schools, colleges, the hospitality industry and private training providers.
Skills for Work Hospitality (Int 2) gives candidates the opportunity to find out about the hospitality industry, and to experience the skills required to work in the professional kitchen and front of house. They are also introduced to planning and organising hospitality events. Designed by teachers, lecturers, industry and the sector skills council, the Course comprises four mandatory Units — underpinned with the employability skills required by the hospitality industry.
Home Economics staff from two schools who are delivering the Skills for Work Hospitality (Intermediate 1) Course spoke to the delegates about their partnership arrangements with colleges and their local hospitality industry. Two pupils from one of the schools - Blairgowrie High School - donned their whites and helped the chefs to prepare the delegates lunch. The feedback from delegates was hugely positive.
---
Skills for Work Courses
Skills for Work (SfW) Courses provide young people with a hands-on, experiential learning programme to help them develop generic employability skills - practical skills that relate directly to the world of work – in a vocational context. They are principally aimed at young people in S3 and S4, but are also open to others. At this stage of their secondary education, selection of a SfW course option may not reflect the later career choice of the young person.
Following the successful piloting of SfW Courses in two phases between 2005 and 2007, they became available for mainstream delivery from August 2007. In 2005/6, five pilot Courses were trialled by 40 centres. This month, our 19th SfW Course will be launched for mainstream delivery across Scotland.
There are currently around 120 centres offering SfW Courses, working in a wide range of often very innovative partnerships. Young people taking a SfW Course will normally spend some of their time at a local college, or other training provider. This will mean learning in a different environment, meeting new people, including employers, and facing new challenges. Since 2005/6, over 8,000 young people have opted to take a SfW Course.
Candidates due to complete their Course(s), and who were expecting certification in August 2007, were surveyed about their SfW experiences. A similar survey was conducted in 2006. The results of the 2006/07 survey show a continuing high level of overall satisfaction with the full range of pilot SfW Courses.
All Skills for Work Courses – 2006/07 (Results of the 2005/06 survey are shown in brackets)
97.1% (97.8%) of candidates enjoyed their Skills for Work Courses
98.2% (98.2%) agreed they had learnt about working with others
96.1% (94.7%) acknowledged they had learnt about what happens in the workplace
95.3% (92.9%) learnt to review their own work
96.4% (94.7%) learnt about the skills and attitudes employers want
The complete results for both surveys are available on the Skills for Work WebPages.
The expansion of SfW Courses continues. New courses in the Digital Media and Health Sector areas are currently being developed, while other areas are being scoped.
Details of all SfW Courses, along with fully illustrated case studies from the pilot, are available on the Skills for Work WebPages.
---
Art@SQA Open Day success
Our Art Open Day in our Glasgow office on Saturday 10 May was a great success, with around 150 people dropping in throughout the day. The exhibition gave us the opportunity to showcase some incredible works of art by Scottish students who have achieved National Qualifications in Art and Design. And it gave the artists themselves, their parents and their teachers the chance to come along and view the artwork.
Our reception area and meeting rooms have been made-over to include some of the amazing exhibits from our 2006 Inspirational Art Tour and 2007 National Gallery A Exhibition. A display of 3D items is also featured.
We were delighted to receive positive feedback on the event. One artist's parents commented, "Please accept our sincere thanks for our invitation. We had a lovely visit and thoroughly enjoyed every minute viewing the wonderful works of art created by extremely talented young artists.
"Many thanks for a lovely visit and for the innovative thinking which created this lovely gallery."
The event coincided with World Fair Trade Day and, to celebrate, members of SQAFair provided Fairtrade refreshments, snacks and information to visitors.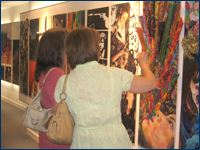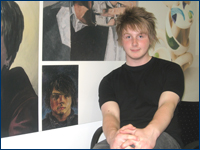 ---
Works of art inspire creative writing
The winners of the English-Speaking Union Scotland's inspired? get writing! creative writing competition were announced in Edinburgh recently.
Sponsored by SQA and EIS, and supported by The Scotsman, this very successful competition encourages writers of all ages to submit a creative response to a work of art on display in the National Gallery of Scotland. Now in its third year, the competition saw 848 entries received from all over Scotland for 2008.

The judging panel consisted of representatives from each of the partner organisations involved - National Galleries of Scotland, English-Speaking Union Scotland, Scottish Poetry Library, SQA and The Scotsman. The panel commended the very high quality of entries. Click on the link below to see the full list of winners.
The winner of the 16-18 years age group was Andrew McCormack from St Andrew's Academy in Paisley with his poem 'The Skating Minister', which was inspired by Revd Dr Robert Walker (1755 - 1808) Skating on Duddingston Loch by Sir Henry Raeburn.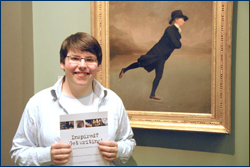 Free public readings of the winning and highly commended pieces were held in the Hawthornden Lecture Theatre at the National Gallery Complex. The pieces were read aloud against a backdrop of the artwork that provided the inspiration.
A book has been published by the National Galleries of Scotland in association with SQA, featuring the work of the winners and runners-up in the 2005/6 and 2006/7 competitions. This is available for sale in the National Galleries shops and the Scottish Poetry Library. It can also be purchased online from www.nationalgalleries.org. It is hoped that a second volume featuring the work of future winners and runners up will be published in 2009.

---