Modernising Scotland's Higher National Provision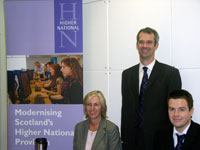 One of the main access routes to employment and to advanced study in degree or other programmes in Scotland is through Higher National Certificates (HNCs) and Diplomas (HNDs).
Funded by a £1.27 million European Social Fund (ESF) grant, the Modernising Scottish Higher National Provision (MSHNP) project has over the past two years revised over 1200 hundred HN Unit descriptors and created nearly 1000 assessment exemplars. In addition, the MSHNP project is presently developing a new online assessment system and high quality learning and teaching materials that will be provided without charge to our approved centres in Scotland.
This innovative project comprises two major strands of activity. Strand 1 includes creation of assessment exemplars and learning and teaching support materials across a wide range of subjects from Advertising and PR to Early Education and Child Care, Spa Therapies, Computing, and Engineering. These materials are available for download from our website.
Strand 2 focuses on computer-assisted assessment provision such as the Scottish Online Assessment Resources (SOLAR) project, and the development of subject-specific learner guides to be distributed via the Scottish Further Education Unit's Information Gateway.
We manage MSHNP and the work is undertaken by a partnership comprising ourselves, specialists in colleges and other learning centres, the Scottish Further Education Unit, and College Open Learning Exchange Group (COLEG).
During August and September we held workshops at a number of Scottish colleges to raise awareness of the HN Resources produced through the project and they were very well received by college practioners across a range of subjects. Due to the positive response we will be visiting more colleges over the coming months. We will also be attending the Objective3 Best Practice event at the Thistle Hotel on 7 November, if you would like to speak to us in person and see some of the materials we have produced to complement new HN awards.
Alternatively, for further information about the project and its outputs please contact:
Liam Campbell, ESF Co-ordinator: liam.campbell@sqa.org.uk