We have one remaining workshop in the 2007 programme.

Assessment and Portfolio Building in an SVQ Programme – 11 December, Glasgow.
If this workshop would help with your Continuing Professional Development, please access the links below for further information and our Registration form.

Alternatively, call our Customer Contact Centre on 0845 279 1000 where someone will be happy to help.
Thank you for your continued support and we look forward to working with you.
---
This session's National Qualifications Professional Development Workshops are now open for bookings.

To avoid disappointment please book your place NOW for the following subject areas:

Places are still available for:
Physical Education
Modern Studies
Biology
Chemistry
Physics
all the Writing at SCQF Levels 3, 4, 5
These workshops have proven to be very popular in the past and places go quickly – last year 94% of delegate places were taken.

Please visit the Professional Development Workshops section of our website to access the booking form and see which subjects are running this year.
---
We have begun a programme of Support Networks for the 13 existing Skills for Work Courses.

These are open to centres already approved to offer the Courses and centres interested in doing so.

Nine events have taken place, and more will be held in 2008.

The Support Networks will provide opportunities for:
centres involved in the pilot to share experiences with new centres
discussion and standardisation of interpretation of standards
sharing examples of delivery models
sharing best practice in internal verification
developing a better understanding of evidence requirements for external verification
Further information, including dates and contact details for individual programmes for each event are available here .
---
---
---
---
---
Scottish History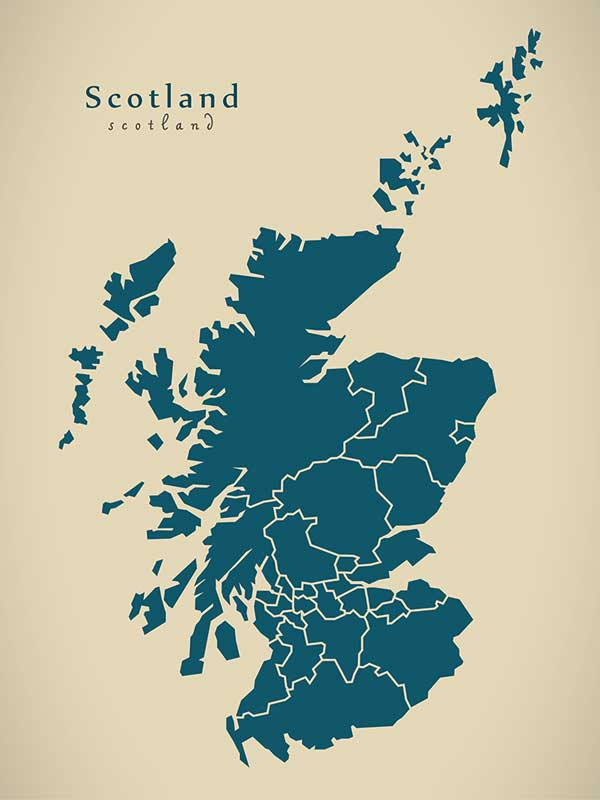 We are currently revising the Higher Course in History, following a major consultation with stakeholders this summer. Having listened carefully to what the educational professionals of Scotland have said to us, we are making the major change of introducing a compulsory Unit on Scottish History. Centres may choose one option from a variety of periods, from medieval to 20th century Scotland. The Unit will be assessed in a source-based paper with a series of short answer questions.

The existing non-Scottish Special Topics currently contained in Paper 2 will be reviewed and, where possible, moved to Paper 1, where they will be assessed by essays.

We will also review other Higher options taking account of deliverability, existing resources and uptake, as well as articulation with other levels.

The introduction of the new Course is planned for the summer of 2010, with the first examination taking place in 2011.


---
Free Past Paper Service
We have recently launched a new web service that allows you to download National Qualification (NQ) question papers - completely free of charge.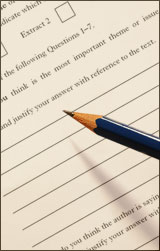 Available from our main website, the facility is a great tool to assist with study preparation and features material from 2007's NQ exam diet.

There are a number of ways to access the service. You can:
go directly to the Past Question Papers
go to our website, access the NQ logo and select the 'Past Question Paper Service'
select the NQ subject page you are interested in and select the 'Past Question Papers link'
If you are interested in obtaining past papers with their solutions, they are available for purchase from Leckie & Leckie and include material covering the past four to five years for all NQ subjects.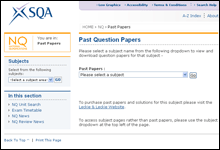 ---
Janet Brown visits China
Our Chief Executive Janet Brown spent six days in China during October. Her first engagement was at the Ministerial Skills seminar in Beijing which was attended by Ministers from the Scottish and the Chinese Governments. There the discussions focused very sharply on the skills agenda in both countries. Janet spent the rest of the week visiting SQA centres and holding discussions with several of SQA's Chinese partner organisations.
One of the highlights of Janet's itinerary was a visit to
Shanghai University of Finance and Economics
where a group of HND and NQ students greeted her and fed back their experiences of being students on SQA programmes, describing how studying for the HND compared with studying traditional Chinese courses.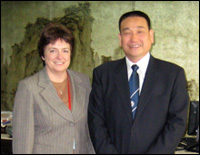 Janet also visited
China's National Education Examinations Authority in Beijing
, and signed a Memorandum of Understanding with their President,
Professor Dai Jiagan
(pictured), committing both examination bodies to working together to set examinations and quality assure vocational qualifications in the Hospitality sector.
---
National Qualification Group Awards Conference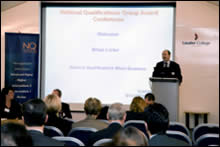 The second annual National Qualification Group Awards Conference is to be held in Dunfermline on 25 January 2008.


The conference will focus on the themes of skilling, up-skilling and re-skilling and how National Certificates and National Progression Awards (NPAs) can support the Scottish Government's Skills for Scotland: A Lifelong Skills Strategy, working in partnership with colleges, schools and employers.
The aims of the conference include:
demonstrating how National Certificates/NPAs support the Scottish Government's Skills for Scotland – A Lifelong Skills Strategy
exemplifying partnership working between schools, colleges and employers
providing a forum for delegates to engage and network
The event is aimed at Senior Managers in colleges and schools and those who are interested in vocational qualifications (SCQF levels 2-6), for example, employers, Sector Skills Councils, local authorities, Scottish Further Education Unit (SFEU), COLEG, Association of Scotland's Colleges (ASC) and Careers Scotland.
For further information please contact Hilary Rutherford or Ashley McGeoch.
---
Qualifications for the Future: Masterclasses, Seminars and Workshops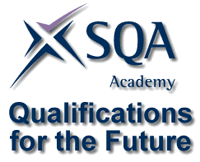 Masterclasses, Seminars and Workshops

Following the highly successful launch of our masterclasses programme during the Edinburgh International Festival by the leading academic Professor Dylan Wiliam, an extensive programme of masterclasses, research seminars and workshops is underway.





The Dylan Wiliam masterclass was followed by contributions on teacher-led assessment from Professor Brian Boyd, University of Strathclyde and on the implications of web2 technologies from Professor Ray Land, University of Stratchclyde.





In addition to the masterclass programme, seminars and workshops have been held on:
assessment
the design of Unit specifications
qualifications development
the needs of small, rural and remote schools
Qualifications for the Future team members also contributed to the Scotland's Colleges Curriculum for Excellence seminar organised by the Scottish Further Eduction Unit (SFEU), in Stirling, and the Association for Educational Assessment Europe Conference, in Stockholm.

Forthcoming events include masterclasses from:
Graeme Hyslop, Principal, Langside College
Professor Paul Black, Kings College London
Professor Martyn Rouse, University of Aberdeen
Professor Gordon Stobart, Institute of Education, University of London
Also coming up are research seminars and workshops designed to take forward this thinking into future practice; a seminar for our Curriculum for Excellence Action Research projects and contributions to the Scottish Educational Research Conference in Perth.

For further information please contact John Allan on 0845 213 5545.

---
Assessment Tomorrow: The Future of e-Assessment



Eighty delegates from across Scotland took a look into the future this month. At the second e-assessment conference, organised jointly by SQA and Assessment Tomorrow, delegates heard presentations from a number of different perspectives: including SQA, other awarding bodies, commercial companies and a training provider. All were focused on how to make e-assessment work as effectively as possible for learners.
Martyn Ware, SQA Business Manager for Computer Assisted Assessment, opened the programme with a presentation entitled 'Where we are going in Scotland', reviewing some of our existing e-assessment work and outlining our future plans.

Other morning speakers drew attention to the e-futures website, a site developed by QCA in Northern Ireland as a source of guidance on e-assessment, and to the 'Guidelines on Effective Practice in e-Assessment', a practical guide for centres developed by the four UK regulators. We are currently producing a version of this guide for our centres.
A speaker from Glasgow City Council's Training Department spoke enthusiastically about the many benefits her candidates and assessors had experienced through the use of e-portfolios. Candidates and assessors enjoyed their experiences of working towards SVQs much more than when using paper portfolios. The fact that assessors could access their candidates' e-portfolios over the internet meant that the Council had also been able to make savings in travel costs.
In her keynote presentation, Karen McCallum, SQA's Director of Operations, reiterated our commitment to the development of e-assessment based around the principles of listening to learners so that we understand their needs, working collaboratively with others, and ensuring that we provide effective support for teachers using e-assessment.
---
Access 1 and 2 website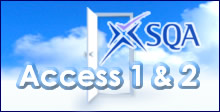 We have now completed our review and refreshment of the Access 1 and 2 section of our website.

The website has a completely new layout and we've added various features and content which will hopefully assist staff in centres who want to learn more about Access qualifications and how they can be used.

If you or other colleagues in your centre are involved in the delivery of Access 1 and 2 qualifications, please take time to have a look at the new site and the information it contains.
There are two ways to find the new Access 1 and 2 website, you can either:
visit our main website and access the link for 'Access 1 and 2', listed on the index on the homepage
simply go directly to www.access1and2.org.uk
We will be adding more information to the website over the coming weeks and months and plan to update information more regularly than we have in the past.

As always, we are pleased to receive feedback which may help us develop and improve our services in the future. If there are any changes or improvements you would like to suggest to the Access 1 and 2 website please e-mail us.
---
Advanced Higher Art Tour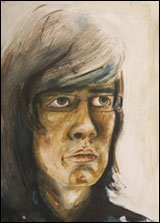 As an integral part of the collaborative exhibition between the National Gallery of Scotland and SQA currently showing in the Gallery's IT Hall until January 4, a tour of Advanced Higher Art and Design has now been completed to venues in Glasgow, Inverness, Aberdeen, Dundee and Edinburgh.
Each event, led by the Principal Assessor for Advanced Higher, was aimed specifically at teachers of Art and Design and took the form of a seminar in which 11 folios featuring examples from across the areas of textiles, architecture, graphics, jewellery, portraiture, landscape and built environment were viewed.

These folios of candidates' work provided the opportunity to discuss the new structure and assessment of the revised Advanced Higher Course.
A highlight of the Edinburgh day was a brief presentation from candidate Euan Maharg whose folio was based on Landscape Architecture. A number of Advanced Higher candidates, whose folios were part of the tour, attended other venues and participated in discussions with the delegates.
Feedback from the tour has been extremely positive. Part of the tour's value lay in its wide geographical reach, attracting teachers from across Scotland, as well as realizing its aim of exemplifying the high standard of work achieved by candidates in sixth year in our schools.

In addition to the Advanced Higher tour, workshops led by professional artists took place in November, aimed at teachers of Art and Design who were interested in experimenting with new fabrics and technology.

Textile workshops on November 3 were led by artist Caroline Earl, while milliner Felicity Faichney demonstrated her craft on November 10.
---
New Skills for Work Courses

Six new Skills for Work Courses are currently being developed and will be available to all centres, subject to our normal approval processes, from August 2008 onwards.

Details of the subject areas (with Course working titles) and key development milestones for each new Course are available below.
Uniformed and Emergency Services
Level: Intermediate 1 (SCQF level 4)
Summary information to be issued: November 07
Launch event: April 08
Publication of Arrangements documents: April 08
Energy
Level: Intermediate 2 (SCQF level 5)
Summary information to be issued: December 07
Launch event: April 08
Publication of Arrangements documents: April 08
Engineering Skills
Level: Intermediate 2 (SCQF level 5)
Summary information to be issued: December 07
Launch event: April 08
Publication of Arrangements documents: March 08
Hairdressing
Level: Intermediate 2 (SCQF level 5)
Summary information to be issued: December 07
Launch event: April 08
Publication of Arrangements documents: April 08
Hospitality
Level: Intermediate 2 (SCQF level 5)
Summary information to be issued: December 07
Launch event: April 08
Publication of Arrangements documents: March 08
Retailing
Level: Intermediate 2 (SCQF level 5)
Summary information to be issued: November 07
Launch event: March 08
Publication of Arrangements documents: March 08
---
Results: WorldSkills Competition in Japan
Shizuoka 2007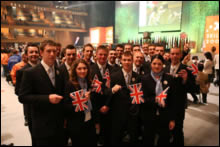 The UK has scored its best ever result in the 39th WorldSkills Competition held in Japan earlier this month. UK competitors won one gold, one silver, two bronze medals and nine medallions of excellence at the four-day event in Shizuoka, where more than 800 young people tested themselves against tough international standards in 47 vocational skills.

The British team came 11th overall, out of the 45 countries taking part in the biannual event, one place higher than the UK achieved in Helsinki in 2005.

Gary Tuddenham from Longtown, Cumbria won the gold medal for Cabinet Making. Harry Smith from Worthing, West Sussex won silver for Graphic Design.

Simon Noble from Billingham, Cleveland won bronze for Autobody Repair, and Jonathan Lloyd from Newtownabbey, Co Antrim won bronze for Car Painting.

Congratulations to everyone who took part!


2008 UK Skills competitions briefs


UK Skills competitions briefs for 2008 are available to access now by logging on to the UK Skills website.

Please take the time to open an 'Account' to receive direct information for your chosen subject area direct from UK Skills.

Some of you will also wish to note that there are a number of new Health and Personal Care competitions related to fitness instructing.

There are currently no dates for the selection competitions but for more information please contact Sharon Donnelly on 0141 242 0284.


---
ICTL Diploma Presentations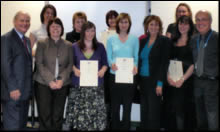 A group of Library Assistants from Angus Council Cultural Services and Schools have become the first in Scotland to achieve the Diploma in Applications of ICT in Libraries.

At a recent ceremony they were presented with their Diplomas on behalf of SQA by Bob Marren, Business Development Manager. Bob congratulated all those involved in achieving this success and remarked that this was a special occasion as it marked a number of 'firsts' in Scotland.

Angus Council Training Services is the first centre in Scotland:
to be approved by SQA to deliver the Diplomas
to enter candidates for the Diploma
to have candidates certificated for the Diploma
Angus Council and its Cultural Services & Education Departments are:
the first Local Authority in Scotland to have library staff certificated for the Diploma.
Angus Council Library Assistants are:


the first to be awarded the Diploma in Scotland
Rhona Arthur, Assistant Director, The Chartered Institute of Library and Information Professionals in Scotland / Scottish Library and Information Council offered her congratulations adding that their achievement was the result of hard work and dedication on the part of the candidates and their tutor and they were trailblazers for their sector in Scotland.

John Doherty, Head of Angus Council Cultural Services, spoke highly of the commitment of all those involved and of the benefits the qualification has brought to both the service and his staff.

Not content to rest on their laurels many of the successful students are continuing to the Advanced Diploma along with a further batch of Diploma candidates.
---
Wheels of Time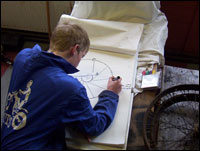 Wheels of Time, a joint project between National Museums Scotland and the Rural and Urban Training Scheme (RUTS) saw 10 young people, who had all been chronic non-attenders or expelled from school, being given the opportunity to restore a 1920s 225cc Triumph Junior motorcycle in the National Museums Collection Centre in Edinburgh.
Six participants completed SQA modules in Care and Use of Hand Tools and two are now in full-time further education as a result of the project.
The participants developed a variety of skills and a personal sense of achievement by researching the motorcycle industry, learning about mechanics and conservation, and seeing the final display at the Education Centre of the National Museum of Scotland in Edinburgh and at Glasgow's Museum of Transport.
The Rural Urban Training Scheme (RUTS), an SQA accredited centre, uses motorcycles as a way of engaging with young people who are excluded from formal education. Our modules are delivered on a daily basis and have been very successful at getting young people to re-engage with learning.
RUTS staff work with young people individually or in pairs, allowing for learning to be flexible and tailored to individual needs and abilities. It also enables young people to develop a positive relationship with an adult and grow in confidence as they work their way through the modules.

RUTS are working at the very sharp end of learning provision, with those who have generally opted out of mainstream education. Following on from the success of Wheels of Time, they are currently supporting five young people through a four month course at Jewel and Esk Valley College, to gain further modules and increase their skills and confidence in finding employment.
---
SQA sponsors...creative writing competition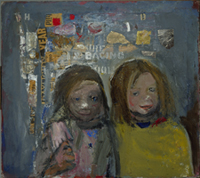 After the huge success of last year's competition, we are delighted to be continuing our sponsorship of the inspired? get writing! creative writing competition, now in its third year.

Entrants are asked to write a poem or short story responding to a work of art in any of the National Galleries of Scotland, the contest is open to all ages and to published and unpublished writers.

The competition is a three-way partnership between the National Galleries of Scotland, the English-Speaking Union Scotland and the Scottish Poetry Library. We sponsor it and it is supported by The Scotsman.

There are five categories:


Under 12 years
12-15 years
16-18 years
Unpublished adults
Published adults
Submissions should, as a guide, not be more than about 1,000 words in length. Images of many of the works can be accessed through the National Galleries website.

Entries should be typed with double spacing and e-mailed as an attachment to development@esuscotland.org.uk. Please give your name and contact details on a separate final page of the attachment. If you do not have e-mail, please post your entry to English-Speaking Union Scotland, 23 Atholl Crescent, Edinburgh EH3 8HQ.

Full details and rules of the competition are available on the National Galleries website. These can be also be found on www.esuscotland.org.uk or www.spl.org.uk.

Entries should be submitted by Friday 18 January 2008.

Results of the competition will be announced by Friday 28 March 2008.
---