Career in Social Care: An Introduction Award at SCQF level 5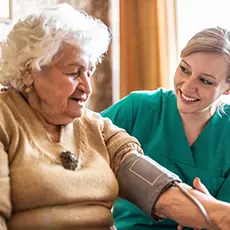 The Career in Social Care: An Introduction award at SCQF level 5 develops basic skills in care and focuses on an introduction to a career in the care sector.
This award covers areas such as what is meant by social care, as well as the skills and values that are essential to good care practice and will develop insight in learners who are new to social care, giving them realistic expectations that will inform their career decisions.
The qualification is available through colleges and training providers.
Use the tabs below to open each section individually. Alternatively you can show allhide all the sections.
Why deliver this qualification
The Career in Social Care: An Introduction award at SCQF level 5 provides an excellent introduction to a career in care and meets the needs of induction programmes to these careers. It is also useful as a refresher and Continuous Professional Development (CPD) for more experienced staff. Successful achievement of the award provides SQA certification and should enhance employability and career prospects.
Who does this qualification suit
This qualification is suitable for a wide range of candidates including:
learners who are at school or may have just left school
mature candidates who may been out of education for a long period of time
candidates in employment who wish to enhance their career prospects
employers who wish their employees to take part in short, continuing professional development courses
candidates who are seeking national recognition of their achievements
Access
Entry is at the discretion of the centre.
No prior qualifications or knowledge are required to undertake this qualification.
The level 5 award could provide progression to:
other health and social care qualifications
direct employment in the care sector
Approval
Centres with devolved authority for approval should use their own internal approval process.
Centres without devolved authority are required to come forward for approval and should contact SQA's Business Development Team for guidance.
Assessors and verifiers must be able to meet SQA's general requirements for technical/occupational competence as outlined in the Systems and Qualification Approval Guide.
How to assess
Each individual unit specification gives detailed information on the learning outcomes and assessment criteria to be achieved as well as guidance on assessment.
SQA has developed assessment papers and marking instructions which are stored on SQA Secure.
Where can you take this course?
Qualification Structure
Group award code: GV39 45 (114 KB)
The Career in Social Care: An Introduction award at SCQF level 5 consists of two mandatory units.
For details of the units making up the award, please refer to the qualification structure.