HNC/HND Business at SCQF levels 7 and 8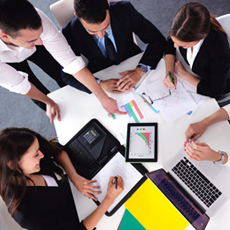 The HNC and HND in Business are designed to provide a broad understanding of business organisations and the environment in which they operate. Candidates who achieve these qualifications may go on to study further academic and professional qualifications or embark on an administrative, managerial or commercial career.
The HND has a strong managerial focus which helps successful candidates to progress to management roles. In addition, the wide range of options enables candidates to progress to specialist roles such as human resource management, marketing, and financial services.
This qualification is available through a growing number of colleges and universities around the world.
These qualifications are widely available in colleges.
Blog
Keep up to date and engage with all things Accounting, Administration, Business and Financial Service related through our blog.
Update letters
Internal Assessment Guidance 2020-21
Use the tabs below to open each section individually. Alternatively you can show allhide all the sections.
Why deliver this qualification
The HNC and HND in Business qualifications are based on employer needs established through a robust consultation and validation process. The qualifications therefore provide skills required by industry and business.
Achievement is certificated and nationally recognised.
The qualifications can be tailored to the needs and circumstances of candidates. They can be delivered on a part-time or open-learning basis, and teaching and assessment can be aligned to the candidate's job role if appropriate.
Who does this qualification suit
HNC and HND Business qualifications are designed for candidates who wish to pursue a career in business — but don't wish to commit themselves to a specialist area at the outset.
They are suitable for a wide range of candidates including:
school leavers
adult returners to education
those in employment who wish to enhance their career prospects those who are, or wish to be, self-employed and require a broad grounding in business
Access
Access is at the discretion of the centre. Examples of appropriate entry qualifications are:
NC Business at SCQF level 5
Business Management Higher (SCQF level 6)
relevant National Qualifications or National Qualification Group Awards at SCQF level 5 or 6 any two National Qualifications at Higher level together with three Standard Grade passes at 3 or above
 
an SVQ Level 2 or 3 in a relevant area
Candidate Information
HNC and HND Business will prepare candidates for entry to a wide range of job roles within business organisations.
Progression
The HNC and HND Business enable candidates to acquire skills and knowledge in key business functions such as management, marketing, and finance.
These qualifications also help enhance relevant knowledge and skills in economics, communication, problem solving and information and communication technology.
Successful candidates also have the option to go on to further study at an equivalent or higher level.
Approval
Centres with devolved authority are eligible to seek approval through their own internal approval process.
Centres without devolved authority will have to come forward for approval and should contact the Business Development Team for guidance.
Assessors and verifiers must be able to meet SQA's general requirements as outlined in the guide to approval.
Specific approval requirements
Centres require ICT facilities for the delivery and assessment of the following Units:
IT in Business: Spreadsheets (F84V 34)
IT Applications Software 1 (D75X 35)
Information and Communication Technology in Business (F84W 35)
Centres should keep up-to-date with developments in legislation and business practices relevant to the knowledge and skills within the Group Awards.
How to assess
Assessment is on an ongoing Unit-by-Unit basis. Each individual Unit specification provides detailed information on the Evidence Requirements and guidance on approaches to assessment.
Candidates will also be assessed via a Graded Unit towards the end of the programme. The purpose of Graded Units is to grade the candidate's ability to integrate the knowledge and skills gained in the mandatory Units.
The Graded Units are:
Business: Graded Unit 1 (F8LD 34) Examination based on a seen case study at SCQF level 7
Business: Graded Unit 2: (F8LE 35) Project Investigation at SCQF level 8
Where can you take this course?
Ushare open learning resources
Group Award Specification
Qualification Verification Summary Reports
Qualification Verification Summary Reports (previously called Internal Assessment Reports).
2019
2018
2017
Guidance on Updating Units with Tax Content
SOLAR formative assessment
OpenAssess (www.sqasolar.org.uk/openassess ) is a facility which enables the delivery of formative assessments to support learning within SQA Qualifications. It is part of the SOLAR suite of applications that SQA use to deliver assessment across a range of qualifications. We have released a limited number of formative assessments to support Business, Accounting and Administration and IT Higher National awards. These cover topics such as Meeting skills, employee motivation techniques and Payroll.
The full list of all assessments available through SOLAR, both formative and summative is available on the SOLAR website at www.sqasolar.org.uk
SOLAR Formative Assessment
Additional Information
Assessment Title
Unit Title
Unit No
Topics covered
Topic-based formative questions.

11 questions
Marketing: An Introduction
Marketing: An Introduction
F7BX 34
ALL
Topic-based formative questions.

13 questions
Behavioural skills for Business
Behavioural skills for Business
F7BX 34
ALL
Qualifications Support Team (QST) - Action Grids
Events