HNC Bioscience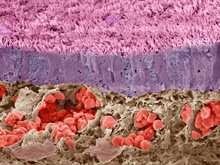 The HNC Bioscience develops the skills, knowledge and understanding candidates need for progression to higher education in biological sciences, or for employment or training at technical or support level in the land-based and bioscience industries.
Candidates will develop: an awareness of safe working practices; scientific and practical laboratory skills used by the bioscience industries; and a fundamental knowledge and understanding of cell biology, microbiology, biochemistry and environmental issues. They will also choose specialist options in animal science, plant science, soil science, biotechnology, and the production of crops for food or energy generation.
Candidates also develop the transferable skills of: study and research, planning, synthesis and evaluation.
Use the tabs below to open each section individually. Alternatively you can show allhide all the sections.
Candidate Information
HNC Bioscience
The HNC Bioscience develops the skills, knowledge and understanding you need for progression to higher education in biological sciences, or for employment or training at technical or support level in the land-based and bioscience industries...Find out more
Group Award Specification
Qualifications Support Team (QST) - Action Grids