PDA Volunteering Management SCQF level 8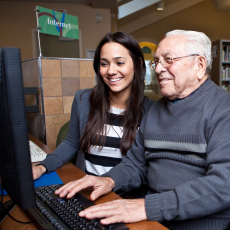 The Professional Development Award (PDA) in Volunteering Management at SCQF level 8 is comprised of three HN Units, each at SCQF level 8. It provides an SQA qualification for those working at a senior level in the management of volunteering.
The PDA will allow managers working within a volunteering setting to develop their skills and knowledge of management at a strategic level, taking into account the external policy environment and performance management and evaluation tools, to demonstrate the impact of volunteers and volunteering within the organisation.
This qualification is available through colleges, training providers or workplaces approved as an SQA centre.
Use the tabs below to open each section individually. Alternatively you can show allhide all the sections.
Why deliver this qualification
The PDA in Volunteering Management has been designed for delivery as a taught course and will normally be delivered through a combination of workshops and self-directed study. The course can be delivered on a full or part-time basis.
Some features of the PDA are:
it provides a qualification for managers of volunteers
it can be achieved while employed
it develops management skills for the volunteer sector
it provides progression opportunities to further learning
Who does this qualification suit
Candidates do not need to have formal relevant qualifications to enrol on this PDA. Good communication skills, both oral and written, are required. Current experience as a co-ordinator, leader and/or manager within a volunteering setting would be advantageous. Some experience or knowledge of evaluation and research methodologies is desirable.
Progression
The Units in the PDA have been mapped against the National Occupational Standards for Managing Volunteers. Candidates would have the opportunity of progressing to other Management PDAs, which could perhaps lead to a full HN qualification in a related field or SVQ in Management at level 3 or 4.
How to assess
Assessment has been designed to allow candidates to enhance their own practice, and the use of reports and projects is crucial to this. Candidates should reflect on their own practice and that of the organisation in order to critically evaluate themselves and allow them to apply what they have learned to improve activities in the organisation.
Each Unit is assessed separately. Each Unit requires that the candidate produces written work which, in most cases, is research-based. Evidence will be based on the candidate's practical experience in a volunteer context.
Where can you take this course?
Arrangements Documents
Unit(s) and delivery tools
Group Award code: G917 48 (24 SCQF credit points)
SCQF level: 8
Structure
The PDA in Volunteering Management is comprised of three mandatory HN Units:
Volunteering Management: Policy and Practice — F424 35
Volunteering Management: Evaluating and Improving Professional Practice — F41T 35
Volunteering Management: Leadership and Management in Volunteering — F41S 35