HNC Poultry Production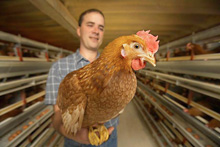 The HNC Poultry Production gives an understanding not only of production techniques and technologies, but a general knowledge of the scientific and business principles that underpin the industry and of the environmental context in which the sector operates.
Use the tabs below to open each section individually. Alternatively you can show allhide all the sections.
Candidate Information
HNC Poultry Production
The HNC Poultry Production will give you an understanding not only of production techniques and technologies, but a general knowledge of the scientific and business principles that underpin the industry and of the environmental context in which the sector operates...Find out more
Group Award Specification