HNC Automotive Engineering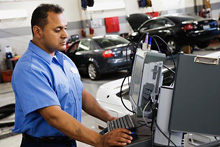 The Higher National Certificate provides candidates with skills that are relevant to the modern automotive engineering industry. This includes skills in automotive engineering principles and technologies; an in-depth knowledge of the vehicular systems; and understanding of components and integration of the associated systems. Candidates develop specialist competences in one of the automotive engineering sectors: Light Motor Vehicle; Heavy Goods Vehicle; or Plant and Electrical/Electronic.
Use the tabs below to open each section individually. Alternatively you can show allhide all the sections.
Candidate Information
HNC Automotive Engineering
The Higher National Certificate will provide you with skills that are relevant to the modern automotive engineering industry. ...Find out more