HND Environmental Management and Sustainability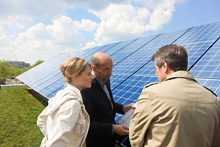 The HND Environment Management and Sustainability develops candidates knowledge, understanding and skills in relevant sciences and environmental sectors along with the ability to apply these in the protection and sustainable use of the environment and natural resources, preparing them for employment in an assistant, technical, or supervisory role in the environmental sector.
Use the tabs below to open each section individually. Alternatively you can show allhide all the sections.
Candidate Information
You will learn about minimising impacts on the environment, and managing the environment in a sustainable manner. Optional units will allow you to specialise in Environmental Protection, focusing on understanding environmental issues and impacts and developing the necessary skills in environmental monitoring, or Sustainable Environmental Management, looking at the human-environment interactions, understanding the impacts and learning how to manage the environment in a sustainable manner....Find out more
Group Award Specification
Internal Assessment Report