NC Technical Theatre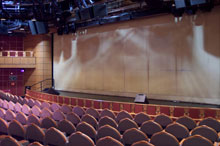 The National Certificate (NC) in Technical Theatre at SCQF level 6 aims to develop knowledge and skills in stage management, lighting, sound, set construction and technical theatre in context.
National Certificates (NCs) are designed for full-time delivery over one year (or part-time over two years) and are available through schools, colleges and training providers.
Use the tabs below to open each section individually. Alternatively you can show allhide all the sections.
Why deliver this qualification
The NC in Technical Theatre appeals to a wide variety of potential candidates.
The Course structure allows centres a high degree of flexibility in delivery. Although primarily envisaged as a full-time course, it would be suitable for candidates to undertake this NC on a part-time basis.
The wide range of optional Units contained in this qualification enable the Course to be tailored to the needs of the individual candidate and opens up the possibility of interdisciplinary working.
Who does this qualification suit
The NC in Technical Theatre is aimed at school leavers, adult returners or those working in the drama or theatre industry.
It is designed as a starting point for those interested in working in the drama or theatre industry or as Continuous Professional Development (CPD) for those already employed in some capacity.
The Course develops knowledge and skills in stage management, lighting, sound, and set construction, and an understanding of relevant health and safety legislation. Candidates will learn how to work with tools and about manual handling in line with health and safety requirements. They will also develop communication and interpersonal skills in preparation for employment in the industry or prior to continuing studies.
Access
Access is at the discretion of the centre. Candidates would benefit from previous experience of a Drama Course or Units. Standard Grade Drama or National Courses in Drama at SCQF levels 4, 5 or 6 would be appropriate. Candidates should have an interest in this field and some experience of technical theatre or drama. Relevant work experience would also be acceptable.
Progression
The optional Units enable this NC to be tailored to the needs of the individual candidate, allowing a number of progression routes.
Most successful candidates may articulate with HNC/HND Technical Theatre or other Drama/Technical Theatre related programmes. However, it is recognised that successful candidates could possibly find employment as a Theatre Technician, in Stage Management or in Theatre Design.
Approval
Centres with devolved authority are eligible to seek approval through their own internal approval process.
Centres without devolved authority will have to come forward for approval and should contact the Business Development Team for guidance in completing the combined CA1/SA1 form.
Assessors and verifiers must be able to meet SQA's general requirements as outlined in the guide to approval.
How to assess
The majority of assessment is practical with written assignments and projects where appropriate.
Where can you take this course?
Qualification content and delivery tools
Qualification structure
Resources
Offer this qualification