National Progression Award in Web Design at SCQF level 5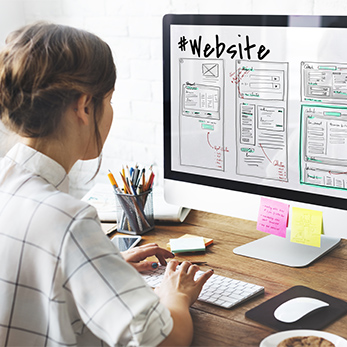 National Progression Awards (NPAs) assess a defined set of skills and knowledge in specialist vocational areas, linked to National Occupational Standards.
The NPA in Web Design at SCQF level 5 introduces learners to the technical skills required to create websites and graphics, including adding interactivity to websites. There is also a focus on the importance of the website development process.
This NPA is a revision of NPA Web Design Fundamentals, which has been revised in line with current web design and development standards.
This qualification is available through schools and colleges.
Use the tabs below to open each section individually. Alternatively you can show allhide all the sections.
Why deliver this qualification
The NPA in Web Design at SCQF level 5 offers current, fit for purpose, bite-sized chunks of learning that are straightforward for centres to adopt and for learners to study. New skills can be gained quickly and cost effectively. It provides more up-to-date knowledge and skills in line with contemporary technologies and industry standards.
The qualification will offer learners foundation skills in web design. It provides a suitable qualification for progression to a higher level of study, such as a National Certificate in Computing with Digital Media, or similar awards at an appropriate level.
The framework consists of three mandatory units. The size of the award makes it suitable for delivery in schools and colleges over one academic year.
NPAs can add value and breadth to a CV for a learner by developing vocational skills.
This NPA covers SCQF level 5, allowing clear progression and development routes to:
higher education
qualifications in related fields
This NPA provides opportunities to develop programming and practical skills using applications. Learners will also develop a range of Core Skills. Achieving this award will also enhance learners' employability skills.    
The NPA could be offered in one of the following modes:
full-time (eg as a fast-track into a full NC or HN programme)
part-time (eg day-release)
open and distance learning
infill into existing classes
evening provision
Who does this qualification suit
The NPA in Web Design is suitable for:
school pupils
college students
adult learners
those in the early stages of industry-related employment, eg junior web designers
This award is also a suitable way to broaden the curriculum in the senior phase of school by allowing all pupils, not just those with a vocational interest in computer science, to experience a contemporary technological subject and gain skills that can be used in future employment.
It is not anticipated that this award will lead directly to employment. It is primarily designed to prepare learners for Higher National courses or Junior Apprenticeships in web design and development.
Access
Entry is at the discretion of the centre. However, learners would benefit from having attained the skills, knowledge and understanding required by one or more of the following, or equivalent qualifications and/or experience:
any one of the component units, done on a free-standing basis.
Computing Science at SCQF level 4
NPA in Software Development at SCQF level 4
experience of writing HTML, CSS and programming
Progression
This level 5 award could provide progression to:
NC Computing with Digital Media SCQF level 6
NPA in Computer Networks and Systems SCQF level 5
NPA in Digital Media Animation SCQF level 5
NPA in Computers and Digital Photography SCQF level 5
NPA in Cyber Security SCQF level 5/6
NPA PC Passport SCQF levels 5/6
National 5 Computing Science
Higher Computing Science
Approval
Centres with devolved authority for approval should use their own internal approval process.
Centres without devolved authority require to come forward for approval and should contact SQA's Business Development Team for guidance.
Assessors and verifiers must be able to meet SQA's general requirements for technical/occupational competence as outlined in the Systems and Qualification Approval Guide.
How to assess
Assessment of this award will be a combination of practical and knowledge assessments under closed-book and/or open-book assessment conditions. Centres should refer to the assessment and evidence requirements for each unit.
Assessment/e-assessment support packs will be available for this qualification.
Where can you take this course?
Current
Qualification content and delivery tools
Qualification structure
NPA Web Design GN57 45 (341 KB)
Group award code: GN57 45 (18 SCQF credit points)
The NPA in Web Design at SCQF level 5 consists of three mandatory units (18 SCQF credit points).
The delivery of the award is at the individual centre's discretion.
Lapsing 31/07/18
Qualification content and delivery tools
Qualification structure
This group award will enter its lapsing period on 31/07/18.
The finishing date for this qualification is 31/07/2021.
Group Award code:G8HD 45 (18 SCQF credit points)
SCQF level: 5
NPA in Web Design Fundamentals at SCQF level 5 (214 KB)
Structure
Three mandatory Units must be completed to achieve this NPA.
Mandatory Units:
Computing: Website Graphics – H614 45
Computing: Website Design and Development — F182 11
Computing: Interactive Multimedia for Website Development — F180 11
Any other information
Assessment Support Packs (ASPs) for all Units are available to download from SQA's secure website.
The Units are mapped to the National Occupational Standards (NOS) for the sector.
Resources
A selection of Factsheets have been created for National Certificates and National Progression Awards (NPAs) within the Computing portfolio. The purpose of these factsheets is for centres to customise with their own Centre Logo/Details and circulate to candidates/potential candidates undertaking the awards.
NPA in Web Design Fundamentals at SCQF Level 5 - Factsheet (40 KB)
Offer this qualification