NPA Sound Production: Live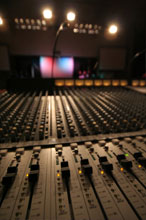 The National Progression Award (NPA) In Sound Production: Live at SCQF level 6 equips candidates with the knowledge, skills and understanding required for employment within the creative industries sector or for progression to further academic qualifications. It bridges the gap between entry level education and professional career development.
This NPA is linked to the National Occupational Standards (NOS) for Sound, which has a thorough grounding in live sound practice and also allows individual and personalised skills development through the optional Units.
The NPA helps to develop a candidate's individuality through the creative process, and uses problem-based learning approaches to foster creative and technical skills and competences as well as critical problem solving and project management skills.
This qualification is available in colleges and schools.
Use the tabs below to open each section individually. Alternatively you can show allhide all the sections.
Why deliver this qualification
The NPA in Sound Production: Live can be accessed by a broad range of candidates, and provides a flexibility valued by candidates and centres. It can be offered full-time, part-time, through open or distance learning, or through evening classes.
It may open the way to school/college partnerships, with co-delivery of the qualification benefiting from wider access to resources.
This is a structured qualification which develops new and existing sound production skills and competences in a vocational context and there are valuable opportunities for personalisation and choice and areas for specialism.
Who does this qualification suit
The NPA in Sound Production: Live is a starting point for those interested in working in the audio industries, or can be used as Continuous Professional Development for those already employed or self-employed.
The NPA is aimed at school and college students and adult learners who have an interest in and/or experience of sound production in a performance context. It is also aimed at those already working in music and the performing arts.
The following audiences in particular may benefit:
Youth and community group partnerships, such as organisations which run activities based around youth music initiatives: the NPA could enhance the vocational and educational value.
Those not in mainstream education who may find it difficult to access further education: the NPA can be part of an alternative curriculum for vocational and personal development whilst attracting SCQF points.
Music education staff involved in youth/community education and school teachers wanting to up-skill or cross-skill: this is an ideal CPD resource.
Audio visual support industries staff: again, this is an ideal CPD resource.
Anyone who could benefit from an individually tailored curriculum: a collection of vocationally relevant NPAs could allow individuals to develop specific skills areas usually regarded as too diverse within FE full-time courses (for example, an accumulation of NPAs in Music, Sound Production and Technical Theatre).
Access
Access is at the discretion of the centre. There are no formal entry requirements, but candidates would benefit from previous experience of a sound production and/or music course or Units or related study or have an interest and some experience of sound production. For those candidates not in education, relevant work experience would also be useful.
Some Units indicate prior attainment which would be useful for candidates. For example, Physics at SCQF level 5 for the Sound: Audio Electronics Unit, and IT or audio visual experience for the Music: Visuals for Live Performance Unit.
Progression
Successful candidates may find employment opportunities as a sound production assistant in a rehearsal facility or live venue or anywhere where live sound is a requirement; at entry level for an audio visual services company; in a radio, TV or media production company as a sound production assistant; or as a freelance sound engineer.
Candidates can improve their employment prospects by taking further qualifications. They could progress to NC Sound Production, NC Music, HNC Sound Production or HNC Music, or they may choose to complete other NPAs such as NPA Sound Production: Recording, NPA Music Business or NPA Music Performing.
Approval
Centres with devolved authority are eligible to seek approval through their own internal approval process.
Centres without devolved authority will have to come forward for approval and should contact the Business Development Team for guidance in completing the combined CA1/SA1 form.
Assessors and verifiers must be able to meet SQA's general requirements as outlined in the guide to approval.
How to assess
The Units have a practical approach to both delivery and assessment. The assessment strategy aims for a balanced approach and uses complementary and supplementary methods of assessment which reflect the nature of the subject area. The majority of assessment is practical-based. Candidates should have ample opportunities to develop competence and skills through formative assessment opportunities; ideally these would be in the workplace or a similar environment.
The structure and content allows for integrative and cross assessment. Integrated and linked delivery provides candidates with more meaningful learning experiences and promotes an increased coherence between the Units.
Where can you take this course?
Qualification content and delivery tools
Qualification structure
Group Award Code: G9L5 46 (18 SCQF credit points)
SCQF level: 6
Group Award Specification (554 KB)
Structure
Candidates must achieve two mandatory Units and one optional Unit.
Mandatory Units
Sound: Understanding the Signal Path — F58G 12
Sound: Reinforcement — F5E0 12
Any other information
The Units are taken from the frameworks of the National Certificates in Music (G978 46) and Sound Production (G977 46). Should a candidate progress to either of these qualifications they would already have accrued a number of credits towards the NC, depending on specific selection of Units.
Assessment Support Packs (ASPs) are available for selected Units. These can be downloaded from SQA's secure website.
Qualification Verification Summary Reports
Offer this qualification