HND Agriculture candidate information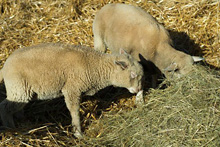 The HND Agriculture will develop practical and Core Skills, and build your competence and understanding in the areas of applied science and technology, business management, economic policy and the environment.
Some of these will be studied in both a national and global context. The emphasis throughout is on agriculture as a multifunctional industry.
You will gain the skills, knowledge and understanding of animal and crop production technology, farm mechanisation, business management and managing people which are necessary for a position as a trainee/assistant farm manager or equivalent. You will also be made aware of relevant health and safety, animal welfare and environmental issues.
Employment and progression opportunities
On completion of the HND you may gain employment as: Farmer (self employed); Machinery Ring Manager; Assistant Farm Manager; Overseas volunteer (VSO); Trainee Farm Manager; Agricultural Officer (SEERAD); Experimental Officer; Operations Manager; Field Trials Officer; Crop Adviser; Technical Sales Representative.
You may be able to progress to Year 3 of the BSc Agriculture delivered by Scottish Agricultural College (SAC) and validated by Glasgow University. You are advised to liaise directly with the SAC as the Unit credits that count towards entry requirements can vary and applications will be considered on an individual basis.
Entry
Access to the award is at the discretion of the centre. As with all SQA qualifications, open access is encouraged, but examples of appropriate formal entry qualifications include:
Two SQA Higher level courses (Grade C or above) together with three SQA Standard Grade passes (band 3 or above) and evidence of Numeracy and Communication Core Skills at SCQF level 5.
An appropriate group of National Units at SCQF level 5 and/or 6.
Appropriate vocational qualification for example S/NVQ at level 3 (modern apprenticeship) in Agriculture.
Other combinations of National Qualifications, Vocational Qualifications and qualifications from other awarding bodies may be acceptable.