HND Applied Bioscience candidate information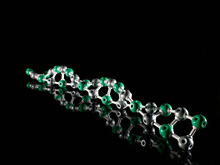 The Applied Bioscience HND develops knowledge, understanding and skills in biological sciences and their applications to the land-based industries, including the crop, livestock and environmental sectors. You will have the opportunity to develop: an awareness of safe working practices; underpinning knowledge of the biological and physical sciences and technology in the land-based industries and the environmental sector; scientific and practical laboratory skills, particularly in immunotechnology and DNA molecular technology; and knowledge and understanding of ecological and environmental issues.
There are options that allow you to specialise in an area such as applied crop science, applied animal science or environmental science.
You will develop study and research skills, as well as skills in planning, development, synthesis and evaluation.
Employment and progression opportunities
The Applied Bioscience HND may provide opportunities for you to enter employment pathways, potentially leading to positions such as: Laboratory Technician; Animal Technician; Quality Control Officer; Grain Quality Technician; Creamery Technician; Technical Representative.
The HND Applied Bioscience can provide direct entry to Year 3 of BSc Applied Bioscience, or BSc Applied Animal Science, according to your choice of second year optional Units. There are other progression routes to biological science courses at other Higher Education establishments. You should check any specific entry requirements with the appropriate university admissions departments at an early stage of your HND studies.
Entry
As with all SQA qualifications, access to the awards will be at the discretion of the centre. Examples of appropriate formal entry qualifications include:
Two Highers (SCQF level 6) or 1 'A' level pass (SCQF level 7) to include Biology or Chemistry, plus
English and Mathematics at SCQF level 5 or equivalent or a National Certificate Group Award or other qualification at SCQF level 5/6 in a related subject area such as Life Science, Applied Science, Biological Science, Science, Biotechnology, Science and Technology.