HNC/HND Creative Industries: Radio candidate information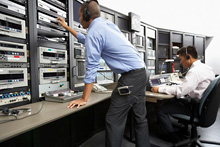 The broad-based HNC and HND Creative Industries: Radio allows you to explore the Creative Industries without choosing a specialism at this stage. The wide choice of introductory units provides a flexible award which will provide you with broad knowledge and skills, and the opportunity to develop a high level of practical skills, analytical research and practical use of technology. The course is set within a rapidly changing industry where multi-skilling and transferable skills are essential.
The HNC and HND Creative Industries: Radio will develop your knowledge and understanding of the roles and responsibilities involved in radio production, and you will learn a range of contemporary vocational skills used in producing radio content. You will add to this knowledge of the context, working practices and organisation of the creative industries, and a range of core and transferable skills essential for the Creative Industries.
You will also have the opportunity to develop knowledge and skills in planning, analysing and synthesising; integration of technological, production and creative skills; and your study and research skills.
Employment and progression opportunities
You could progress to the BA Media Theory & Production or other media related programmes.
Job opportunities arise in all aspects of the broadcast media including production and presentation.
Entry
As with all SQA qualifications, entry is at the discretion of the centre. Examples of formal entry qualifications include:
any relevant NC Group Award at SCQF level 5 or above
Higher English and Communication, plus one other relevant Higher, plus at least three Standard Grade passes at 3 (or equivalent)
an SVQ 2 or 3 in a relevant area
relevant National Units at appropriate levels (eg core skills Units at Intermediate 1 or 2) combined with any of the above
Different combinations of relevant National Qualifications, Vocational Qualifications and equivalent qualifications from other awarding bodies may also be acceptable, as would suitable vendor qualifications at an appropriate level.
You may be accepted if you have suitable work experience (paid or voluntary), perhaps after interview to assess your ability to cope with the demands of the course.