HNC Gamekeeping with Wildlife Management candidate information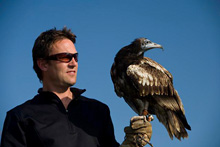 The HNC Gamekeeping with Wildlife Management is a specialist award within Scotland. It has provided the industry with well trained personnel over the last ten years. It is highly regarded within the game field industry as it allows candidates direct entry into employment and into Higher Education.
The HNC will provide you with a qualification that will further your personal and professional development. It is aimed primarily at those who will be working at Beatkeeper, Ghillie and single-handed level on a sporting estate.
If you have been working in the industry and have gained qualifications at non-advanced level, the qualification provides a progression route, or a way of facilitating a career move or career change. The HNC is also suitable if you have previously achieved a relevant group of National Units in Gamekeeping or an SVQ 2 in Gamekeeping and wish to develop your technical competence and managerial skills.
Employment and progression opportunities
The main job opportunities for candidates in gamekeeping at the level of the HNC are in the areas of beatkeeper, ghillie and single-handed keeper. However, there are also opportunities for posts as head keeper, forest enterprise ranger, wildlife officer, stalker, head stalker, river bailiff and SSPCA inspector.
The individual units can be taken for Continuing Professional Development (CPD).
The qualification allows for progression to academic qualifications at a more advanced level, for example HND Countryside Management. You should check with your centre for progression arrangements with universities.
Entry
Entry is at the discretion of the centre. However experience of working in a field sports environment (for example, as a beater), and of working on an estate, prior to embarking on the course would be beneficial.
If you have no formal qualifications, you will be assessed by the centre to ensure that you have an aptitude and interest in field sports, and that you have the ability and potential to cope with the academic demands of the course.
You would normally enter the HNC from one of the following routes:
Relevant groups of National Units, such as SPA or NC in Rural Skills
SVQ/NVQ 2 or 3 Gamekeeping