HND Environment Management and Sustainability candidate information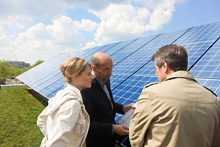 The HND Environment Management and Sustainability will develop your knowledge, understanding and skills in relevant sciences and environmental sectors along with the ability to apply these in the protection and sustainable use of the environment and natural resources, preparing you for employment in an assistant, technical, or supervisory role in the environmental sector.
You will learn about minimising impacts on the environment, and managing the environment in a sustainable manner. Optional units will allow you to specialise in Environmental Protection, focusing on understanding environmental issues and impacts and developing the necessary skills in environmental monitoring, or Sustainable Environmental Management, looking at the human-environment interactions, understanding the impacts and learning how to manage the environment in a sustainable manner.
You will increase your awareness and understanding of key environmental issues, and develop a sound understanding of the principles of sustainable development and environmental management. You will understand the relevance of environmental science and management principles, environmental impacts and ways of managing and minimising those impacts.
You will cover areas such as land use options, environmental issues and impacts, sustainability and environmental management, relevant legislation, policy and health and safety issues. You will explore these issues in both a classroom context and by using real-life case studies and frequent site visits.
This will build a strong theoretical and applied foundation, and enable you to take a flexible and holistic approach to issues. You will also have the opportunity to develop planning, analysis, synthesis, study and research skills.
Employment and progression opportunities
The HND Environmental Management and Sustainability may enable you to enter employment as a Conservation Advisor, Environmental Field Centre Assistant, Environmental Management Assistant, or Waste and Recycling Assistant.
The HND Environmental Management and Sustainability is designed to articulate primarily with year 3 of either BSc Sustainable Environmental Management or BSc Environmental Protection. However, articulation also occurs with BSc Rural Resource Management
You are encouraged to become a student member of appropriate bodies, in particular the Institute for Ecology and Environmental Management and/or the Institute for Environmental Management and Assessment.
Entry
As with all SQA qualifications, entry is at the discretion of the centre. Examples of formal entry qualifications include:
An HNC from a similar subject area (eg, HNC Countryside Management, HNC Environmental Management or other HNCs in the land-based or science areas).
Two Highers together with three Standard Grade passes.
An appropriate group of National Units at SCQF level 5/6. These may include: Trees in the Environment, Investigating Animal Wildlife, Wildlife Conservation 1 and The Physical Landscape of Scotland.
NPA in Rural Skills.
Appropriate vocational qualification such as an SVQ/NVQ 3 in a relevant subject, for example, Countryside Skills.
Other combinations of qualifications from other awarding bodies may be acceptable at equivalent SCQF levels.
If you have work experience (paid or voluntary), evidence of this may also be accepted for entry provided that the Centre is satisfied that you are able to cope with the course and are likely to benefit from undertaking the award.
For direct entry to year 2 of the HND, you would be expected to have a minimum of 12 of the 30 credits that make up the HND. These would include the HNC Countryside and Environmental Management mandatory Units.