HND Golf Course Management candidate information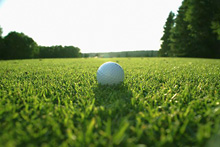 The HND Golf Course Management provides the many and varied competences required by the golf course manager. In this course, your sound technical knowledge of modern greenkeeping practice will be complemented by the knowledge, skill and understanding you will need for the effective administration of human, physical, biological and financial resources in the golf course environment. This will equip you to meet the challenges faced by the golf course management professional in Scotland, the United Kingdom and abroad, wherever golf is played. The HND will enhance your career prospects, self-confidence and professionalism.
Employment and progression opportunities
The HND will provide you with a wide range of employment opportunities. With appropriate experience, the HND could lead to Head Greenkeeper positions.
It may be possible to progress from the HND to degree courses such as the BA Golf Management. It may be possible to study overseas (eg Florida State University and Pennsylvania State University, both of which offer Golf Management programmes). You should check the progression routes open to you with the relevant institutions and your centre.
Entry
As with all SQA qualifications, entry is at the discretion of the centre. Examples of formal entry qualifications include:
PDA International Golf Course Management or PDA International Golf Management
National Certificate Greenkeeping
SVQ 2 or SVQ 3 Amenity Horticulture: Sportsturf
An HNC in a related area
two SQA Highers and three SQA Standard Grades in relevant subjects
any comparable qualifications from other Awarding Bodies including NVQs at level 3 in related areas
If you have suitable work experience (paid or voluntary), you may be accepted for entry on your merit. You may be interviewed to assess your ability to cope with the demands of the course. Evidence of appropriate experience could include: credit transfer, accreditation of prior learning or prior experience (APL, APE, APEL), work experience in Golf Course Management.
Suitable qualifications for direct entry to Year 2 of the HND include the HNC Golf Course Management or HNC Golf Management. Other HNCs in related areas may be accepted.
When you are doing the HND as the second year of a two year course, you will normally have successfully completed the HNC. If you are doing the HND full time, you will normally have completed a minimum of two summers of practical experience by this stage in your education. This will also be hugely beneficial for finding full time employment at the end of the course.