HND Professional Golf candidate information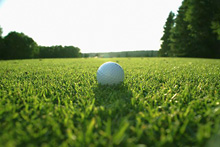 The aim of the HND Professional Golf is to provide you with the skills and qualities required to work in the golf industry — in the sports science, coaching, and management or equipment technology fields. You may ultimately be seeking a playing (performance) career in golf, but graduates could also embark on a career in coaching.
The HND is designed to allow you to be able to make significant contributions to golf performance by applying sports science to your own game and your clients'. You will develop your understanding of the how golf facilities work, the needs of their key stakeholders, and how you can integrate into the efficient functioning of a golf facility. It allows you to develop your knowledge and skills in business and management to allow you to be able to make a positive contribution to the development and running of a golf facility.
Throughout the HNC there are weekly and daily opportunities to develop and improve your performance through medal play, practice, coaching by the delivering centre's PGA Professional/equivalent, and by fitness and conditioning work in the gym.
The HNC will also give you opportunities to develop and enhance your independent study skills, research and written communication skills, study skills and presentation skills.
Employment and progression opportunities
Once you have achieved the HNC there are opportunities in support/assistant roles in golf coaching, retail, sport/activity co-ordination, and in the hospitality sector specialising in golf tourism.
Examples of the roles you might be suited to include: School Activity/Sport Co¿ordinator; Head Sports Coach/Professional; Golf Retail Supervisor/Manager; Teaching Professional.
It may be possible to progress into year 3 of a specific BSc Golf Performance programme at Abertay University. You would be expected to have successfully completed both years of the HND. You would be assessed on an individual basis.
With the HND, you will have developed the coaching skills and competences to the standard expected at UKCC Level 2, and the knowledge experience to progress towards UKCC Level 3.
Entry
Your academic suitability will be assessed by the level of qualifications you hold. Two Highers at 'C' or above are the usual requirements. Alternatively, you might have a National Certificate or Vocational Qualification in a relevant discipline. Mature candidates will be assessed on an individual basis.
The handicap level for entry is a maximum of 5.4 (category 1) to reflect the title of the qualification, 'Professional Golf'.