HNC Occupational Therapy Support candidate information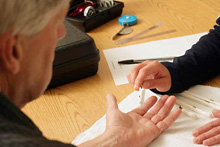 The HNC Occupational Therapy Support will give you an opportunity to develop and practise occupational therapy principles, values and philosophy, and gain a working knowledge of legislation and policy. You will also develop knowledge and skills in anatomy and physiology, psychology and sociology — these are essential for understanding individuals' needs and the role of occupational therapy.
Occupational therapy support workers play a valued and vital role that is currently expanding. Increasing status, responsibility and accountability mean that more than ever, support workers must demonstrate that they are up-to-date with knowledge, skills, techniques and developments in practice.
You will also develop your critical, evaluation, study and research skills.
Employment and progression opportunities
Occupational therapy staff work across a range of areas, including health care, local authority (social care, housing, education) and the third sector (e.g. non statutory organisations). The move towards assistant practitioner and paraprofessional roles is increasingly recognised.
The HNC is jointly certificated by SQA and the College of Occupational Therapists. Many employers value the HNC because it has both SQA and professional body recognition.
On completion of the HNC you may progress to appropriate degree programmes including the BSc Occupational Therapy.
Entry
Entry is at the discretion of the centre. You must be working with and/or be able to gain the supervision of an occupational therapist in your workplace or on placement. If you are not currently employed as support workers in occupational therapy, you must have relevant care work experience.
Examples of formal entry qualifications include:
qualifications at SCQF level 6, eg two Highers
a relevant programme of study based on SQA National Certificate programmes, eg Social Care
SVQ 3 in Care