HNC Pharmacy Services Development and Management candidate information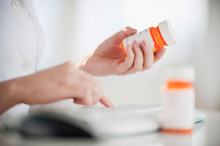 The HNC Pharmacy Services Development and Management qualification has been designed in a generic way to help practising pharmacy technicians progress into managerial roles.
You will learn about: how to carry out an audit; how to identify gaps in the service and develop a plan to implement change; project activity; personal effectiveness; developing the individual within a team; working with people and teams; and applying knowledge of pharmacology to clinical situations.
You will also develop your planning, analysis, synthesis, evaluative, interpersonal skills, study and research skills.
Employment and progression opportunities
The HNC is not a prerequisite for a promoted post into managerial roles for pharmacy technicians but it is often advertised as being a desirable qualification, particularly for hospital based posts
You may be able to progress from the HNC to a degree course. You should check with your centre for more information.
If you work in the NHS, the HNC supports Continuing Professional Development (CPD) by allowing you to generate evidence to meet the Knowledge and Skills Framework (KFS) for five of the 6 Core Dimensions in the framework: Personal and People Development; Communication; Service Improvement; Quality; and Equality and Diversity.
Entry
As with all SQA qualifications, entry is at the discretion of the centre. Examples of formal entry qualifications include:
National Certificate in Pharmaceutical Science (or equivalent).
SVQ Pharmacy Services level 3.
A qualification that meets the registration requirements of the regulatory body for pharmacy practice.
Other qualifications may be accepted for entry, and centres will have alternative access arrangements if you have the required competences. These arrangements are referred to as: Assessment on demand; Credit Transfer; and Accreditation of Prior Learning (APL, or APEL).