HND Legal Services candidate information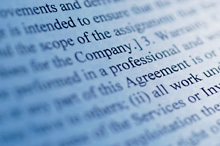 The HND Legal Services may be of interest to you if you are already working, or wish to work, as a paralegal in a law firm or a commercial organisation.
If you are already working as a paralegal, the awards will enable you to gain a nationally recognised qualification that provides evidence of your practical, vocationally relevant skills.
The award will develop the competences you will need to undertake specialist paralegal support roles in the legal profession, or in a legal context in a variety of business, public sector or financial organisations. There are specialist paralegal options that will provide the practical skills required by employers. The course further develops the skills and themes studied in the HNC.
You will develop planning, analysis, synthesis, study and research skills whilst completing the course.
Employment and progression opportunities
There are vocational opportunities in administrative or supervisory/management roles in business, finance, the commercial or public sector and the Police.
If you wish to progress to an LLB degree programme with a view to eventually becoming a solicitor, the award is recognised by some universities and will allow you to start in year 1 of the LLB degree, subject to the university's normal admissions procedures.
Progression into a BA Law degree or other degree programmes is also possible, although this is not the route you should choose if you wish to become a solicitor.
Entry
As with all SQA qualifications, entry is at the discretion of the centre. Examples of formal entry qualifications include:
At least one Higher in English, Modern Studies, History or Economics
An appropriate grouping of National Units in Legal Services or Communication
If English is not your first language, an International English Language Test Score of 5.5 (recommended Higher National entry level)
Higher National Unit DE1K 33 (Workplace Communication in English)
Candidates who achieve the HNC award (96 points at SCQF level 7) will be able to access the second year of the HND award.
Equivalent qualifications or appropriate work experience may also be accepted for entry.